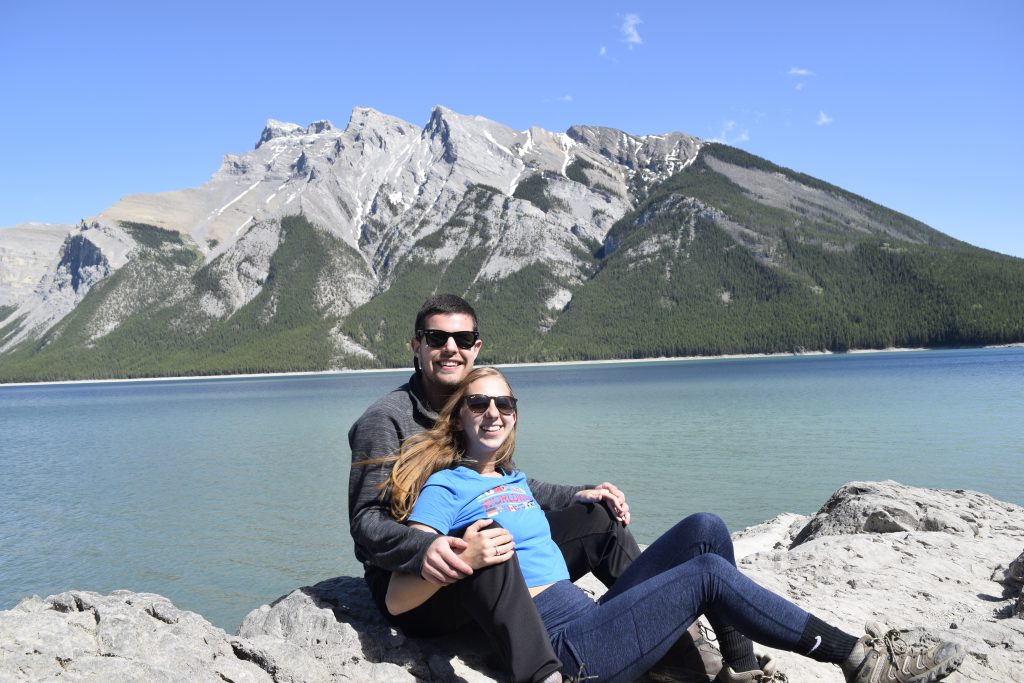 Welcome to Traveling Atlas! Brandon and Erin here. We left New York to travel the world for 16 months, spending around a month in each country to really dive into the culture of the destination. We took work with us; I work remotely as a contractor in controls engineering and Erin teaches contemporary dance around the globe. Our travels officially began in July 2019, however that is far from the beginning of our journey. Let's start at the beginning…
Erin and I met on March 6th, 2016 while we were both in college. You might be thinking "that's really exact". Well, the only reason we have an exact date is because we met on the first night of a Carnival Cruise on Spring Break from college. It gets a bit storybook after this, so I'll give you an abbreviated version of how we met.
I was with my friends from Virginia and Erin was with her friends from Rhode Island. My friends and I were sitting in the "night club" on the boat when a group of girls approach us. Erin, being a dancer asked us if any of us would like to dance with her. Silence ensued until I felt the words coming out of my mouth, unannounced "I will dance with you". It's safe to say I was no dancer and after one song Erin left to dance with her friends and I sat back down.
However, the following night we met in a setting that suited me much better; the late-night pizza place. We got along instantly and spent the remainder of the cruise hanging out together and having the time of our lives. The cruise had to come to a close and I went back to Virginia and she went back to Rhode Island, a world away.
We talked every day but it wasn't forced, it just felt natural. The problem was that we didn't know if we would ever see each other again. I decided that I would invite her to my brother's wedding in May 2016 and I nervously waited for her response. After a few days, she told me that not only would she like to come to my brother's wedding, she would like me to come to her Commencement Ball (which is Prom for college) and graduation in Rhode Island.
It was only natural that the first time we would see each other after the cruise would be on a 15-day road trip up and down the East coast of the U.S. I drove from VA to Rhode Island, went to her Commencement Ball and college graduation, then we drove to New York so she could show me around her hometown, then we drove to Virginia so she could meet my parents, then we went to Myrtle Beach, South Carolina for my brother's wedding and we ended in Washington D.C. with Erin boarding a bus back to New York, our future uncertain after the best road trip of our lives.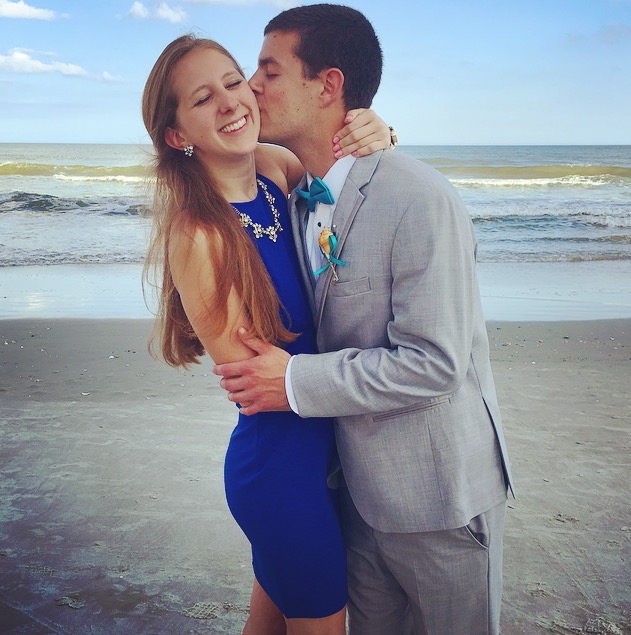 The uncertainty was due to the fact that I was leaving that summer to study abroad in Germany and I still had 1 more year in school (we are the same age, my college program was 5 years). When we were in New York on our road trip, I asked Erin if she would be my girlfriend but without saying no, she said that we should wait and see how my study abroad went.
Fast forward two weeks after I left for Germany and Erin and I had continued to talk every single day, even with the time difference and distance between us. I was able to get an international SIM card so I could talk to her while I was traveling around Europe.
On one particular day, June 17, 2016 (again, so exact?) I was on a train to Amsterdam and through text Erin told me "If you asked me that question again, I might have a different answer". Without a second thought I ordered flowers to be delivered to her house with a note reading "Will you be my girlfriend?". Due to the time difference, it was 11 PM in Amsterdam by the time Erin got home from work so I was in a bar right off one of Amsterdam's famous canals waiting anxiously for the call.
She sent me a picture of her holding a sign saying "YES!" and I ran out to the canal to call her in excitement. Although I wished that I was with her, looking out over the canal with so much love flowing through me was one of the best moments of my life.
The next year was wonderful and difficult all at the same time. Our relationship grew stronger than ever, but we were still half the country away from each other with Erin in New York and me still in school in Virginia. We were formulating a plan, one that would have us together as soon as possible.
Before I graduated in May 2017, I tried my best to find a job in New York since Erin was chasing her dream of becoming a professional dancer in NYC. It was difficult, and the only offer I had was in Charlotte, North Carolina. Thankfully, Erin's sister was able to get me an interview at her company and in a very dramatic fashion, I received a call with a job offer as I was boarding a flight to meet Erin and her sister in New Orleans for Mardi Gras. I accepted the job, filled a U-Haul with all of my possessions and drove up to New York.
Things were amazing in New York. I got a nice apartment in Astoria, Queens and ended up getting a job that fit my strengths very well with good pay, benefits, and I really liked my boss and coworkers. Erin was building her career as a professional dancer in NYC and our relationship was better than we ever could have imagined.
However, there was still something missing. We planned as many trips as we could with my limited vacation (10 days per year) and went to some really amazing places including Cuba, the Grand Canyon, New Orleans, England, and Portugal, but all the trips were so short. It was never enough, and our energy was starting to feel stifled within the daily routine of working all day. My commute really started to take a toll on me; it was a minimum of 2 hours in the car each day and if there was traffic, potential for even more.
The idea for our 16-month world tour was born on January 7, 2018 (no excuse for the exactness of this date, I just remember it so clearly). I broached the idea to Erin who initially was very cynical about the idea. How were we going to afford it? What about my dance career? While she was excited about the idea, the normal crushing nature of "reality" came out and clouded her vision. We decided that we would save up as much as we could for 18 months, because that was when my lease on my apartment was up.
Over the next few months, I did massive amounts of research and started to figure out how we were going to make this dream a reality. I was consuming incredible amounts of content on travel, remote work, and how to create an income while traveling. This is when Traveling Atlas was truly born and our vision for the future started sharpening.
After about 6 months, there was a change in Erin. As I was uncovering how we could make our trip a reality, her vision was beginning to clear and she had the discovery that was ultimately her turning point in how she felt about "the trip". She would teach dance at studios around the world while we slow travel. So simple but yet brilliant. Dance has always been her passion and dream and she couldn't imagine giving it up, even to pursue her passion of travel, so this was the perfect compromise.
From then on, Erin's excitement for "the trip" outshined even my own enthusiasm. We started reliably meeting our saving goals each month and we were beginning to build the Traveling Atlas brand into what it is today. The 18 months, while it seemed like an eternity to me, ended up being the perfect amount of time to truly prepare to separate ties from our ordinary lives in New York.
In April 2019 we took a trip to Costa Rica, because while we were leaving in July for 16 months, who can wait 3 months to travel? While we were in Costa Rica, on April 5, I dropped to one knee on the beach and popped the question. "Will you marry me?" Thankfully, she responded with a resounding "YES!" (in actuality she said yes but I didn't hear it at first). In a whirlwind, we booked our venue in the next month and set our date to be wed for June 2021, after we have come back home from our 16-month trip.
Come June 2019 and suddenly everything was very real. We were quitting our jobs, I moved out of my apartment and sold or got rid of 95% of my belongings, and we packed our belongings into 1 carry-on item and personal item each. However, during the scariest part is also when things started to fall into place. I landed a position contracting for my previous employer and Erin had landed positions at dance studios in the first couple of countries we were traveling to.
And then, as if all of the planning happened overnight, we were on a plane to Colombia, beginning our 16-month journey around the world.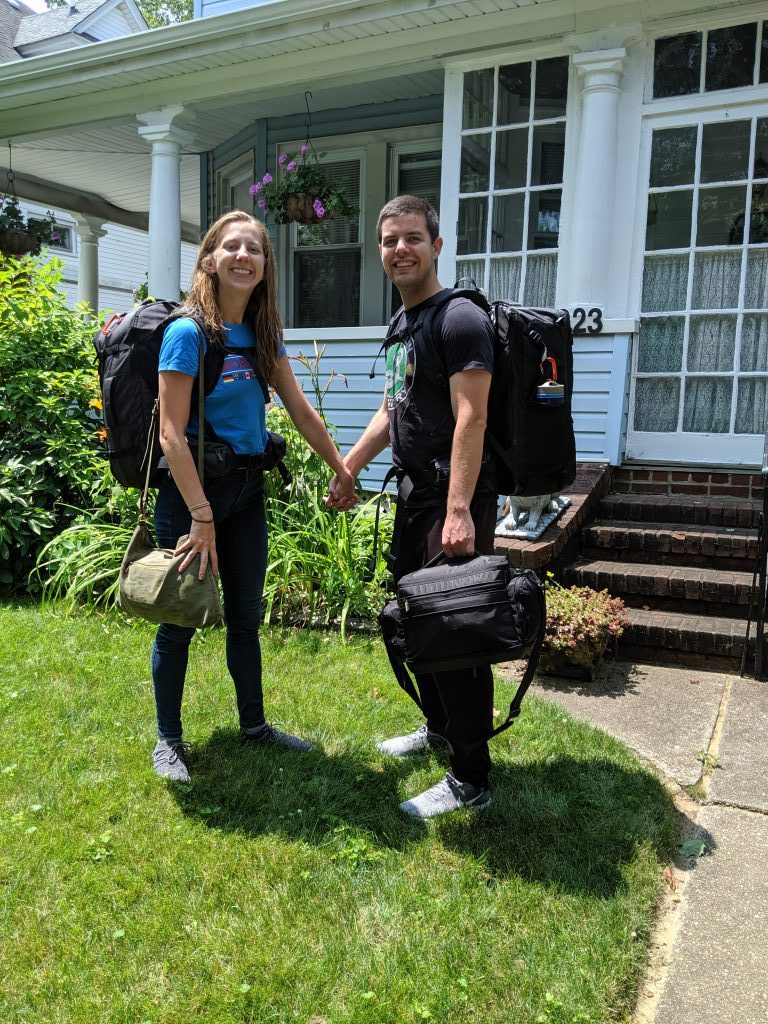 Follow the journey on Instagram, YouTube, and through our site as we explore the world and inspire others to do the same.
About Us Personally…
Brandon Copeland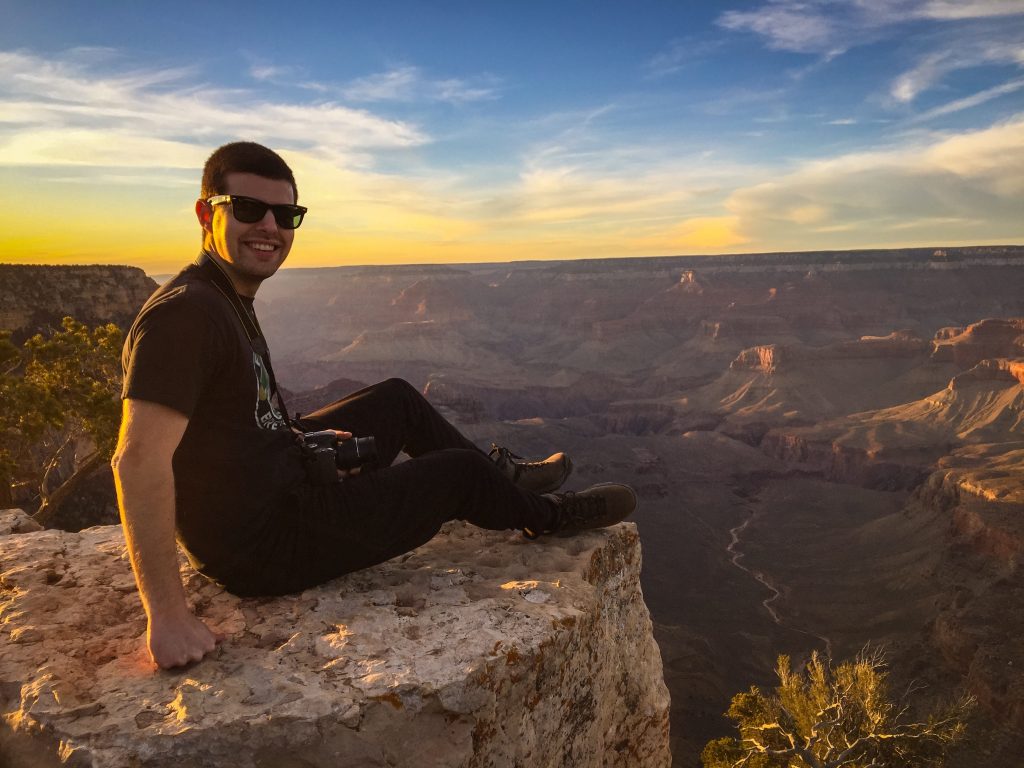 I graduated from Virginia Tech with a B.A. in Chemical Engineering. However, my true passions lie in travel and writing. When I studied abroad in college, I visited 9 different countries all over Europe and really caught the travel bug. After college, I kept traveling and haven't looked back since. Through travel I had the realization that the beauty of the world far surpasses anything conjured by the imagination. That's why Erin and I started Traveling Atlas, to share this beauty we've discovered and to compel you to find it for yourself.
Erin Lyons
I come from a family of experienced travelers. Ever since I was young, we could never go too long without exploring somewhere new. I grew up in Lynbrook, New York so being 35 minutes away from one of the greatest cities in the world whet my appetite for experiencing a variety cultures. I graduated from Roger Williams University with degrees in Dance & Performance Studies and Global Communications. Along with being a travel lover I am a dancer, choreographer, teacher, and fitness instructor. I have always dreamed of my passions aligning; traveling around the world for dance. On this 16 month trip I have made it my goal to teach, learn, and exchange cultures through the medium of dance in as many ways as possible! Check out dancingatlas.com if you are interested in learning more about how I have weaved my love of dance and travel together.