Grand Canyon South Rim Background
Why is it so Popular?
The Grand Canyon draws a stunning number of visitors per year, with a majority of them visiting the Grand Canyon South Rim, surpassing 6,250,000 people in 2017 which is an all-time record high. The park, which opened in 1919, has been visited by 211,000,000 people since its inception close to 100 years ago.
This immense popularity is due to the canyon's stunning characteristics, stretching over 227 miles with some points reaching mile deep. Formed by the Colorado River over the course of millions of years, this incredibly accessible, breathtaking natural monument is a sight you don't want to miss.
The South Rim of the Grand Canyon is much more heavily visited than the North Rim due to the fact that it is open year round due to its relatively low elevation and moderate winters.
Grand Canyon South Rim Location
The South Rim of the Grand Canyon is located in northern Arizona and accessible from airports in Las Vegas and Flagstaff. From Las Vegas, the drive is about 4 and ½ hours from McCarran International Airport and from Flagstaff Pulliam Airport the drive is 1 and ½ hours.
The only airline at time of writing that services Flagstaff Pulliam Airport is American Airlines so Las Vegas may be more accessible. If you want to break up the drive from Las Vegas, add a stop at the Hoover Dam which is just a 45 minute drive from McCarran Airport.
Grand Canyon National Park Entrance Fees
Effective June 1st, 2018 the park entrance fee was changed to $35 dollars per vehicle for seven days or an annual pass for $70. This is specific to the Grand Canyon; however, if you enjoy visiting U.S. National Parks, consider getting the America the Beautiful Annual Pass.
At time of writing, the America the Beautiful Annual Pass is $80 dollars and allows one car and up to four adults full access to over 2000 National Parks across the country for an entire year. I would highly recommend splurging for the annual pass, especially if you are planning to travel to national parks in the surrounding area on the same trip.
Accommodation at the Grand Canyon South Rim
Campsites
Mather Campground (National Park Service)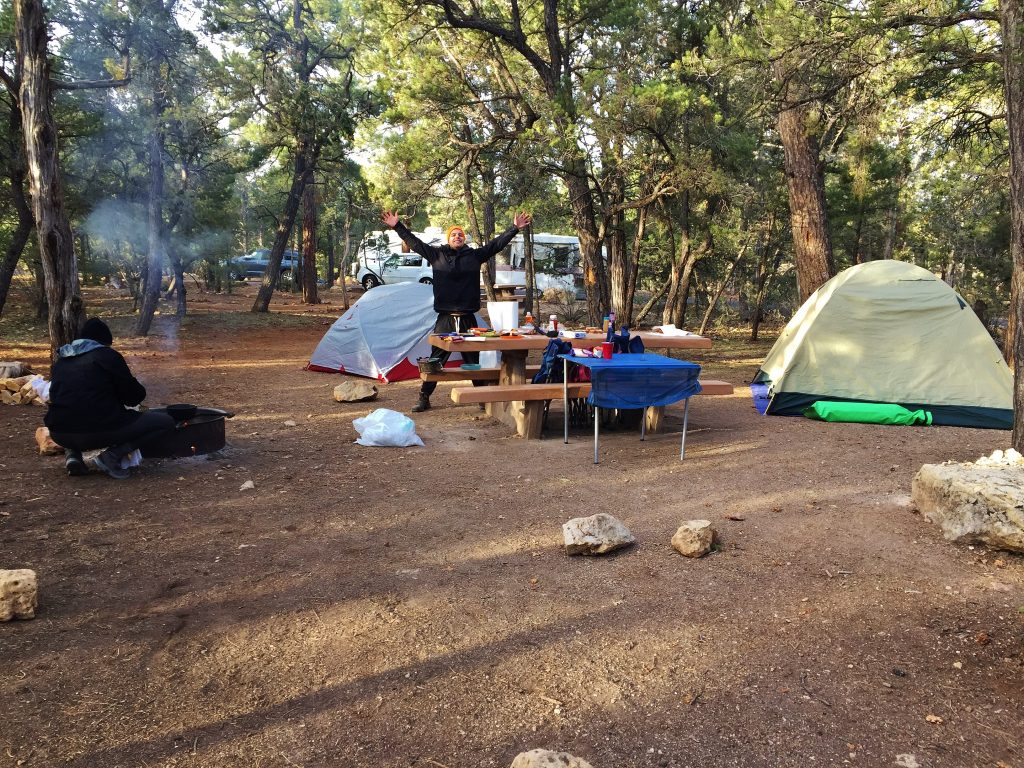 Mather Campground is the only National Park Service Campground that is inside the park in Grand Canyon Village and close to the Grand Canyon South Rim. It's also the only campground within the park, and a clear first choice for anyone wanting to camp at the Grand Canyon for just $18 dollars a night as of writing.
It is a very large facility, with 327 sites that you can book ahead of time as long as it's not in the winter. During the winter months the site is available as first come, first served only. Each campsite comes with a grill to cook food over and a picnic table. If at all possible, try to position yourself close to the restrooms to minimize the walk back and forth.
Each campsite provides a parking space, so you don't have to worry about parking. If you want to park near the visitor centers or drive to a trailhead, there are four main parking lots available with plenty of signs to lead you. Beware, because these lots fill up fast.
Ten X Campground
The next best option outside the park is Ten X Campground, a much smaller campground for just $10 a night as of writing with 70 sites just 4 miles south of the Grand Canyon South Rim park entrance in the Kaibab National Forest. If you can't get a booking at Mather Campground, this is a solid, more affordable second option.
Grand Canyon Camper Village
Grand Canyon Camper Village, as touted on their home page, is the "only full service campground within 25 miles of Grand Canyon National Park". Located one mile south of the Grand Canyon South Rim park entrance, this camper village is expensive and has lukewarm reviews. However, if you can't book Mather campground and you need an RV hookup, this is your place.
Long Jim Loop Camping
This small, free campground is available year round and is a last resort option. This campground lacks any sort of facilities, but if you are in a pinch, it's significantly better than sleeping on the side of the road.
Bright Angel Campground and Indian Garden Campground
While these campgrounds are within the Grand Canyon National Park, they are not easily accessible. Both of them are located at the floor of the Canyon and require that you hike or take a mule ride into the canyon to access them. If you are interested in doing backpacking to these campgrounds, check out this link.
Hotels Within the Park
All of these hotels are located within the park and are walking distance to the main trail heads. The first five hotels on this list are a part of the Grand Canyon National Park lodges and can be booked through this link. Yavapai Lodge has a unique booking link that can be found here.
• El Tovar Hotel
• Kachina Lodge
• Thunderbird Lodge
• Maswik Lodge
• Bright Angel
• Yavapai Lodge
Hotels Outside the Park
These hotels listed below are right outside the park and would offer in some cases a more affordable option for those who would like to stay in a hotel while at the Grand Canyon South Rim.
• The Grand Canyon Hotel at the Grand Canyon
• Best Western Premier Grand Canyon Squire Inn
Best Ways to See the Grand Canyon South Rim
How We Hiked the Grand Canyon South Rim
The Rim Trail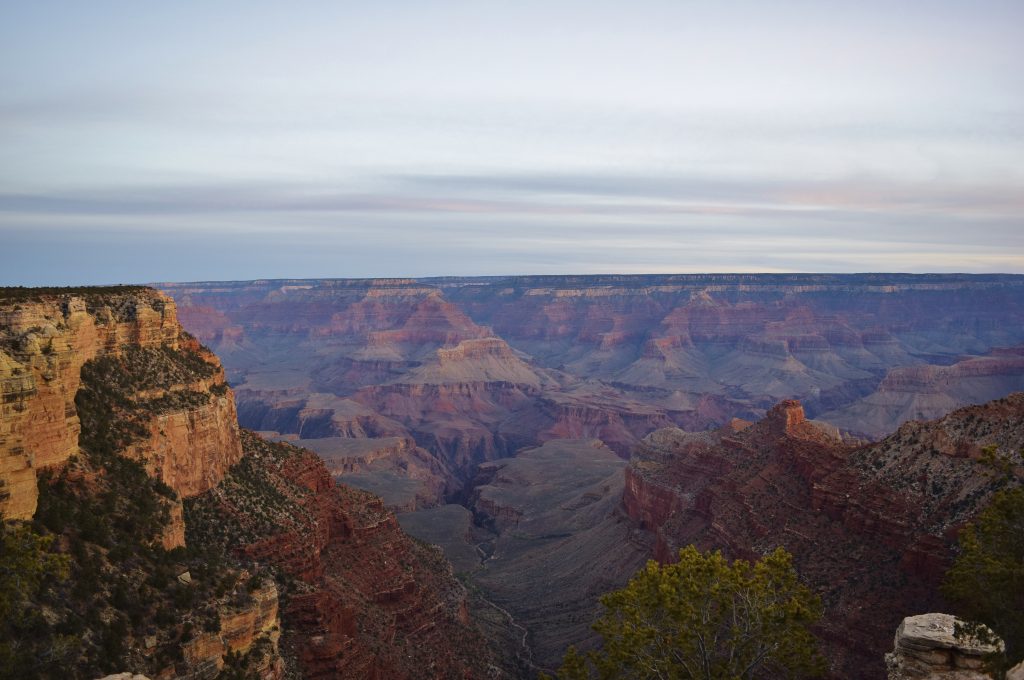 The Rim Trail is exactly as it sounds; it's a hike that loops around the Grand Canyon South Rim. While this hike is a beginner level, it spans 13 miles so if you want to conquer it all, strap on those hiking boots. A majority of the trail is paved.
The Rim Trail is a great place to start if you are just anxious to see the Grand Canyon and you need some instant validation. We definitely felt that way; the Grand Canyon gets so built up in your mind, by the time you make it to the park you are just dying to lay eyes on it.
This trail is wheelchair accessible and very easy to access, and it's a great way for people of all ages and athletic ability to see the wonders of the Grand Canyon.
Shoshone Point Hiking Trail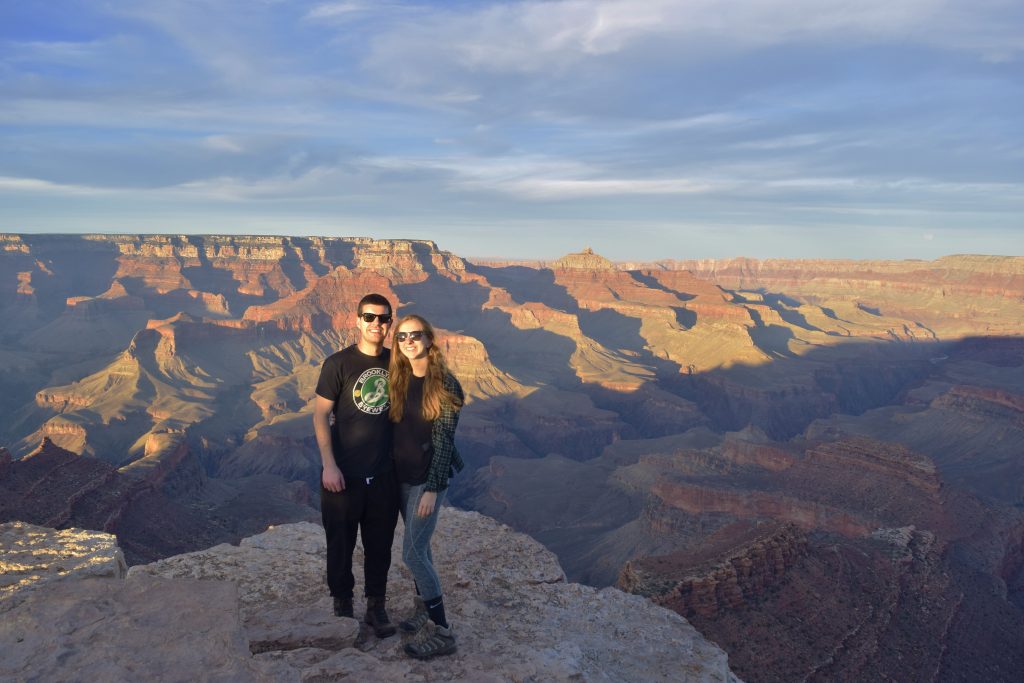 Shoshone Point Hiking Trail is a short, 1 mile hike on level ground to one of the most stunning viewpoints I've experienced. If you arrive at the park later in the day and don't have time to do a full-fledged hike, Shoshone Point is an excellent choice to see an unbeatable 180 degree view from the South Rim.
Shoshone Point is generally a much less traveled hike so you have the chance to have some solitude at the lookout. There is no sign, just a dirt parking lot just west of mile marker 246 on Desert View Drive. The shuttle will not take you directly to the trail head so it would be much more convenient to drive.
This hike is an absolute must! Beating the crowds while getting to experience an unrivaled natural beauty with very minimal effort is always a win. While this wasn't our favorite hike, it was definitely our favorite viewpoint. Due to the easy nature of the hike, Shoshone also won a spot under Drive-Up Viewpoints of the South Rim.
Bright Angel Trail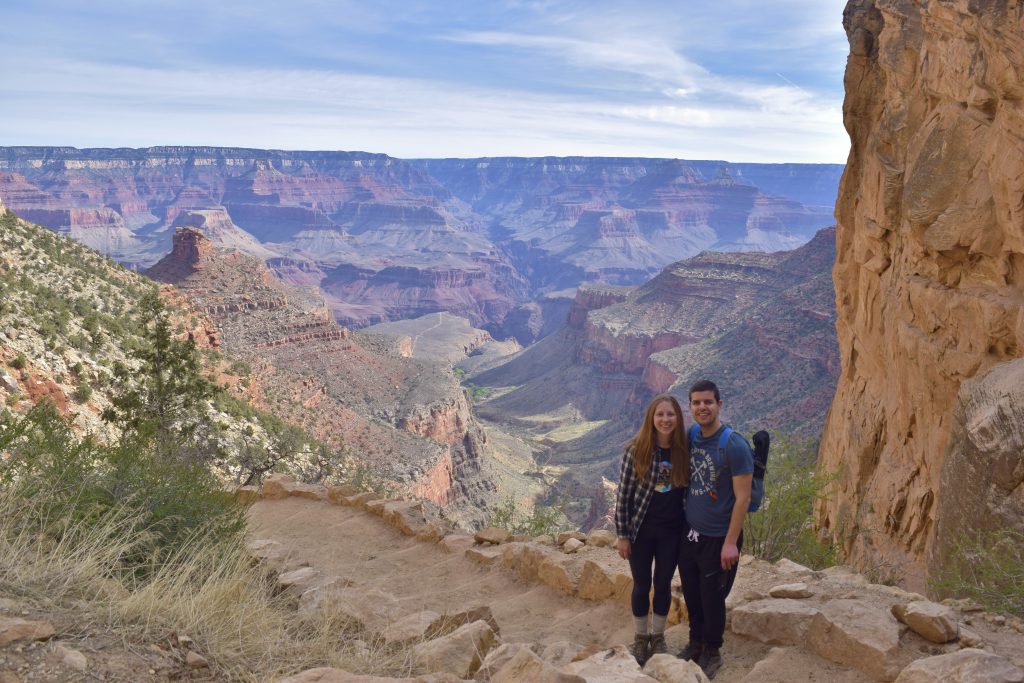 The Bright Angel Trail takes you right into the belly of the beast. This hike, with a drop in elevation of over 3,000 feet and a total of 9 miles round-trip is packed with stunning views from start to finish.
This trail is not for the faint of heart – if you are not physically up for the challenge, mule rides are available. This was the most challenging hike we did in the park and requires good water management and a strong determination.
The hike is very steep, and as you begin by descending into the canyon, the last leg and the hardest leg is the ascension.
If you're like us, you'll feel like you don't have legs after this one! However, it's a very rewarding hike and we highly recommend it, especially if you appreciate a good workout.
Below is a video of Erin dancing on the Bright Angel Trail. I'm not sure how she had the energy for it, I'm glad that I was just behind the camera!
Other Awesome Hikes at the Grand Canyon South Rim
We had a limited amount of time at the South Rim, and once we conquered the Bright Angel Trail we were spent. However, there are other hikes that we would have liked to go on that we will highlight below.
South Kaibab Trail
This South Kaibab Trail is very steep, similar to the Bright Angel Trail, and has different vantage points along the way. If you want to go the "full length" of the trail, it's 6.3 miles to the Kaibab Bridge. However, there are other points like Tonto Trail Junction and Skeleton Point that would be doable for a day trip.
Hermit Trail
The Hermit Trail is another steep hike with similar challenges to the Bright Angel Trail and the South Kaibab Trail regarding the length of the hike. There are stops along the way that would enable you to make a roundtrip out of the hike, but to do the full hike you would have to backpack the trail and camp along the way.
Grandview Trail
Commonly, people take the Grandview Trail to Horseshoe Mesa, with is a 6.2 mile hike roundtrip. It is a very strenuous hike on a trail that is not very well maintained, therefore it is not recommended for beginner hikers. If you want to avoid the crowds of Bright Angel and South Kaibab, it is an excellent choice.
Drive-Up Viewpoints of the South Rim
Driving along Desert View Drive, especially near the Grand Canyon Village, there are many places where you can just stop off on the side of the road and hop onto the Rim Trail for a good view. If you want to drive up to a sunrise or sunset, this is a great option and something we did to catch the sunrise on the day we were leaving.
However, the most easily accessible viewpoint is Mather Point. Situated close to the Visitor Center, it is a short walk from the car park and offers an awesome view from an elevation around 7,000 feet.
If you are up for parking the car and walking a mile, check out Shoshone Point. This secluded spot doesn't even have a sign – it's a great place to catch a sunset if you want to avoid the crowds. Other viewpoints like Yavapai Point and Yaki Point are great options as well.
Mule Trips into the Grand Canyon
Mule trips can be booked up to 15 months in advance and at time of writing are $140 per person for a ride along the Rim and close to $600 dollars for an overnight excursion including lodging for the night and all meals. If you are interested in booking a mule trip, click here.
Guided Tours of the Grand Canyon
There all kinds of different tours that you can take at the Grand Canyon South Rim including bus tours, bicycle tours, mule trips, guided hikes, raft trips down the Colorado River, and even air tours in planes and helicopters. For more information on guided tours of the Grand Canyon, click here.
Food and Water at the South Rim
Water Availability at the South Rim
Water is available in fountains near the Visitor Center, however on most trails there are NO stations to refill your water bottles. Therefore it is imperative that you prepare for your hike by bringing more water than you think you need, just in case.
Water is usually available in Mather Campground during the summer however, be aware that during the winter months and early spring they shut off the water so the pipes don't freeze. This took us by surprise but water is available by the gallon for purchase at the Canyon Village Market.
Food Options at the South Rim
If you would like to cook your own food at your campsite, which was our preferred method, they also sell food at the Canyon Village Market. We would have a simple breakfast, pack sandwiches and snacks for hiking during the day, and then make a great campfire dinner at night.
However, if you would like to go out to eat, there are a few places where you can grab a bite. The lodges, including Yavapai, El Tovar, Bright Angel, and Maswik, offer various food and dining options. If you would like to leave the park for a meal, there are a variety of options about 7 miles south of Grand Canyon Village. During the summer, there is a shuttle bus that will bring you to Tusayan for free.
Additional Resources
Visitor Center at the Grand Canyon South Rim
The visitor center is open during the summer with hours from 8 am to 6 pm. At the visitor center you can get information and necessary maps of the park, check out the exhibits, or rent bicycles. Across from the visitor center is the Park Store where you purchase a variety of books and keepsakes.
Grand Canyon Railway
The Grand Canyon Railway, constructed in 1901, takes you on a trip through history as well as to the South Rim of the Grand Canyon. Leaving from Williams, Arizona every morning at 9:30 AM, the two hour train ride is packed with entertainment. The tickets aren't cheap but if you're looking for a unique, historical mode of transportation to arrive at the park, this is your ride.
Using the Shuttle
The South Rim Shuttle Bus can be an excellent way to navigate the park without having to deal with driving and parking your car in the limited spaces available near the trail heads. For more information on bus routes at the South Rim, click here.
Applicable Links
https://www.nps.gov/grca/index.htm
https://www.nps.gov/grca/learn/management/construction.htm
Hiking Resources
Parts of the Grand Canyon can be rugged and it's important to be prepared for all of the outdoor activities you'll be partaking in. Below is a list of our favorite items that we bring with us on every hike.
Please note that most of these are affiliate links and will provide us with a small amount of money if you use our link to buy any of these products at no additional cost to you, however we personally own, use, and can vouch for these products (or early versions of these items).
Hiking Clothing
Hiking Accessories
Interested in a Southwest U.S. Road Trip?
If you want to travel to the Grand Canyon and also hit other amazing parks in the area like Bryce Canyon National and Zion National Park, just fly into Las Vegas, rent a car and hit them all! If you are interested in taking this road trip, check out our guide here.
Pin it to Pinterest