London pubs are some of the most well-renowned places to grab a beer in the world. Walking down any street in London comes with the inevitable encounters with multiple pubs, each with their own charming identity and character.
When searching for the right place to grab a drink, it may be overwhelming to know where to begin. With a plethora of pubs, there comes a great variety that make different spots better than others depending on your personality and also the occasion. Therefore, we compiled a list of 5 London pubs with distinct, unique vibes for each personality.
Ye Olde Mitre Tavern
Vibe: Feeling cozy and local
Ye Olde Mitre Tavern is off the beaten path; you will not find it's doors as you walk down just any street, but if you find a narrow alley with a house peaking out, you have made it to your destination. Ye Olde Mitre Tavern is a proper old-ale pub that has been in business since 1547.
The space is cozy with carpeting, mugs hanging from the ceiling, and a fireplace in the corner. This pub is near the City of London with locals who often stop in after work for a pint or two. This London pub is quirky, authentic, and comfortable with a good beer selection and great conversation.
Princess Louise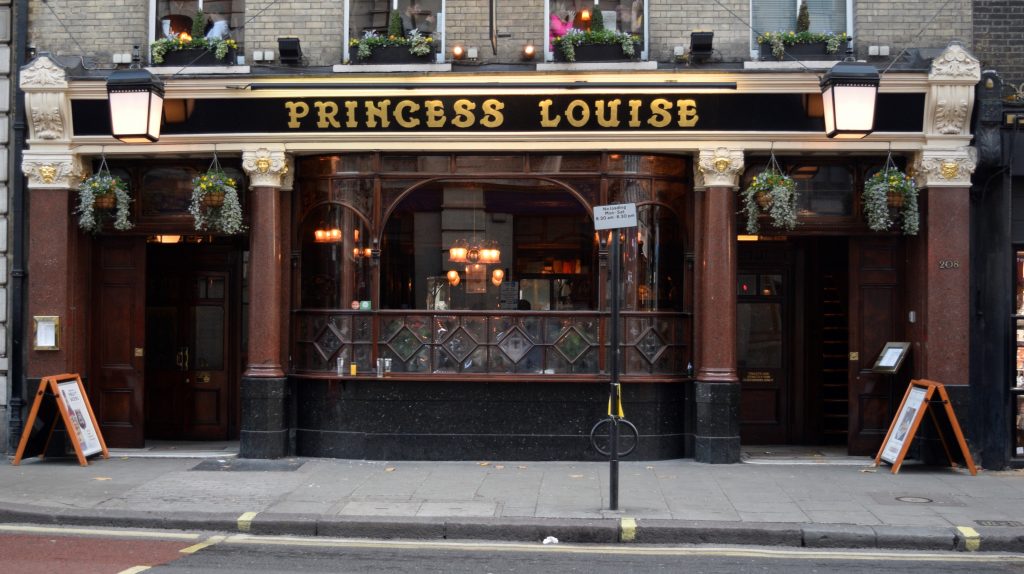 Vibe: Relaxed with opportunity for privacy
Princess Louise is a personal favorite of mine as its located two blocks away from where I lived in London. When you walk into Princess Louise, it is unlike any other bar you will visit; it has a very distinct Victorian feel. As you enter either side door of the pub you will walk down long corridors with beautifully etched windows that divert off into small, personalized sections.
Once you decide whether you want to get personal and find yourself a private, glass enclosed cubby or just grab a seat at the bar, you will find a great selection of beer. Princess Louise is owned by Samuel Smith Brewery and you will find many of their craft beers on draft.
O'Neill's
Vibe: Staying out late and dancing to live music
If you want to dance, listen to live music, and stay out later than the normal London pubs allow, O'Neill's is the place for you. O'Neill's has two locations in London, but when I was living in London, my friends and I frequented the O'Neill's in Chinatown. London is not a late town like most other major cities – pubs close around 11pm. If you're a person who wants to party until 5 AM, there is a big club scene in London, but finding a happy medium isn't always easy, which is why O'Neill's is the perfect spot.
O'Neill's is a bar with three levels and a different personality on each level. The ground floor has a long bar with booths for conversation and drinks. The second floor has a stage where there is normally a live band playing popular covers. If the third floor is open, that's where you will find the DJ playing popular music that you can dance to. On most nights, O'Neill's closes around 2am and is a lively spot that can provide you with whatever atmosphere you are looking for.
Gordon's Wine Bar
Vibe: Historic, romantic nook with great wine
Gordon's is a standout in London because it does not feature the one item that most people are looking for, beer – it's selling point is wine. Established in 1890, Gordon's is known to be the oldest wine bar in London. This bar is family run which is apparent by the welcoming energy from employees and patrons alike.
Once you head down the stairs of this establishment, get a glass or bottle of wine then head into the cave to find yourself a seat. Yes I said it, cave. The cave is only lit by the candles which gives it a romantic yet mysterious mood.

The Blackfriar
Vibe: Pub grub and a pint

The Blackfriar has a unique, triangular facade that you cannot miss if you are walking over the Blackfriars Bridge from South Bank. Once inside the art nouveau pub, you will notice sculpted monks, ornate mosaics, and beautiful tall windows.

In the front half of the pub, you will find more casual seating, but as you head toward the back you'll find a cozy dining area. There is even outdoor seating when it's warm, which is a rare find for London. Like many London pubs, the food is supplied from an umbrella company called Nicholson's, which offers standard pub grub. You can find many favorites as well as new twists on more classic dishes.

Pin it to Pinterest!