New York in One Day: Where to Begin?
New York City can be overwhelming when it comes to planning a trip. Not only is the city massive and full of unique experiences, it is home to four boroughs that tourists often forget about (Can you name them all?). However, the crown jewel of them all and the tourist capital of the eastern United States, Manhattan, is full of hidden spots that fly under the average tourist's radar. This jam-packed day will include must see tourist staples while sprinkling in off-the-map spots that will have you feeling like a native New Yorker in no time.
The travel schedule we are suggesting is fast-paced, however it has been done before, and very successfully I might add. Long before I moved to New York, I visited Erin for the first time and she had one day in the city to show me as much as she possibly could. Being the stalwart guide that she is, Erin created this itinerary and we still swear by it today. Pack your most comfortable walking shoes and prepare to navigate the subway system! By the end of the day, you will be a pro.
Itinerary for New York in One Day
Below is a clickable itinerary for the day - if you aren't interested in the entire day and just want to check out specific parts, click the link and it will take you right to each section. While we swear by our one day crash course of Manhattan, we understand that you might participate in the whole day, and that's okay!
Leverage Connections in the City
Our first stop was one that unfortunately you couldn't easily replicate, but there is a lesson to be learned. We started out at Erin's sister's apartment in Murray Hill, which is in Midtown, Manhattan. We woke up bright and early, and enjoyed a wonderful view of the Empire State Building and the surrounding cityscape from the rooftop terrace of her building, with the early morning glow of the sun's rays reflecting off the skyscrapers. Unfortunately, not everyone has that luxury, but as a rule of thumb, always reach out to any connections you can leverage in an unfamiliar place. Call up that old friend from high school who lives in NYC and ask what they are up to. You never know what adventure could unfold.
We highly recommend eating a hearty breakfast before beginning the day – there are plenty of places to grab an amazing breakfast in the city, but if you want a quick bite there are many shops in Grand Central at the ground level you could stop at.
The first stop on the whirlwind of a day is Grand Central, which hardly needs any introduction. It's featured in so many movies, even if you weren't aware that you were seeing it, you've probably already seen the inside of Grand Central. Grand Central is a convenient starting point because as the name suggests, it is a huge hub for trains and subways alike. Once you arrive, you'll want to check out the famous mural adorned on the expansive ceiling above Grand Central's main hall. Grand Central is the second most visited site in New York City with 700,000 people passing through each day, and it has a hidden history that the average commuter or tourist might not know about.
Here are a few fun facts: There are over 2,500 stars on the mural and 60 of them are actual light bulbs. In the center of the main hall, take a look at the Tiffany clock that is set to atomic time. Play "I spy" to see how many acorns and oak leaves you can find; they are a reoccuring theme in the decor! After you've explored the main hall, find the Whispering Wall , which is located on the bottom floor near the food court. It won't have a sign, but if you see people whispering into corners, you'll know you're in the right place! Experiment with talking to each other while staring into corners twenty feet from each other. It's a secret of Grand Central that's really fun; you don't want to miss it!
Bryant Park and the NY Public Library
As you leave Grand Central head west for a short walk to Bryant Park. This park is one of our favorites in the city as it is a lovely spot to rest and have a small respite from the cement sidewalks. In the wintertime, Bryant Park has an ice skating rink that is free (if you need to rent skates, pay the small fee) and a winter village with all kinds of eclectic shops. In the summertime they have movie nights, board game tournaments, and all sorts of fun activities set up on the lawn. During the rest of the year, it serves as a lovely oasis among the towering skyscrapers. There is a large field that you can set up a picnic at or to read a book. Right next to Bryant Park is the New York Public Library, which is hard to miss due to its massive size and intimidating lion statues right outside. The library is home to the original stuffed animals that inspired father A. A. Milne to spin up a story about for his son, Christopher Robin Milne, that would eventually become Winnie-the-Pooh. These spots are definitely worth a visit.
Freedom Tower and 9/11 Museum
Next up, you'll have to brave the subway to make it downtown. Don't be overwhelmed; nowadays, it's easier than ever to navigate the subways with Google Maps. If you type in a destination, you can select "Transit" to find out which subway to take. It's super easy! In this case, from Bryant Park you could take the 3 from Times Square 42nd St. to Chambers St. and walk over to the Freedom Tower. When you get down into the subway don't forget to get a MetroCard and put some money on it, using cash or credit card. If you happen to use cash, you will only receive dollar coins as change, so don't be alarmed! The Freedom Tower is a shockingly huge building, so if you find yourself getting lost on the way, just look up! Once you have spent time marveling at the size of the building and taking pictures of it towering magnificently over Lower Manhattan, walk over to the memorial pools which were set into the footprints of the Twin Towers. The names of all of the victims from the 9/11 attacks are engraved in the ledge of the pools.
Afterward, head to the 9/11 museum for a self-guided tour. I have never experienced such a well done museum in my life; that being said, it takes an extreme emotional toll to set foot in the museum. Within 10 minutes, I was unintentionally emotional, shedding quiet tears as I walked through the exhibits. There is so much material in this museum that you could easily spend the better part of a day learning and reliving the events of that day. We spent at least an hour and a half in the museum and then continued on our way, but the transition back to a fun day was difficult. Take that into consideration when deciding whether you want to go into the museum or not, but I would highly recommend you take the emotional hit in your day to see the memorial museum.
From the 9/11 Museum, it's a half-mile walk to the Brooklyn Bridge. There is a pedestrian walkway on the Brooklyn Bridge that connects Manhattan to Brooklyn. Completed in May of 1883, this historic landmark is worth the walk. Walk at least halfway out to see spectacular views of Lower Manhattan and the East River. Beware of the bike path – people almost get run over all the time! There are often artists selling their work on the side of the pedestrian walkway; stop and check them out! Last time Erin and I walked on the bridge she found a Christmas gift for one of her sister's there.
At this point, it's inevitable that you'll feel hungry. I know we were! The next stop is South Street Seaport, a fun area downtown with a lot of cool bars, restaurants, and shops. If you want to stop and have a bite to eat and maybe a well-deserved beer, Clinton Hall Seaport is a great choice for a fun, relaxing atmosphere. If it's a nice day, sit outside at the picnic tables and enjoy the weather while taking a load off. Just keep in mind there are two locations – you'll want the Seaport location! It's been a busy day so far!
The Statue of Liberty is a staple of New York City, even more iconic than the Empire State Building. It truly requires no introduction. The matter of seeing it is a little more difficult. There is only one company that offers a ferry to Liberty Island and Ellis Island called Statue Cruises . However, if you make your way to Battery Park, you can view the Statue from afar. Only a mile walk from South Street Seaport, if it's a nice day I highly suggest walking down South St. until you hit Battery Park. While I highly recommend taking the ferry to Liberty Island and Ellis Island, it would be difficult to fit that into this jam packed day.
However, if you want to get a closer view of the Statue of Liberty for free (Yes, the only thing in life that's still free) you can take the Staten Island Ferry . This is a free service that will bring you to Staten Island, but along the way you will have a great view of the Lady Liberty. You also are provided with beautiful views of the immensity of Lower Manhattan, a modern version of the first view immigrants to our country would be faced with before heading to Ellis Island. The ferry, which runs every half hour, takes thirty minutes to get to Staten Island, and you can jump on the next ferry back to Manhattan. The whole trip should take around an hour if you go that route. At this point, we felt like we were running out of time so we decided against the cruise and just enjoyed the view of the Statue from solid land.
Artichoke Pizza is a famous pizzeria in Chelsea. You may have seen them on one of those viral videos that fly around Facebook. Known specifically for their artichoke slices, you can't go wrong at this joint. In order to save room for other stops along the way, I would suggest just splitting a slice to get a taste for the amazing pizza they serve. The slices are enormous, so you won't be fighting over the slice too much! We just split a slice to have the experience without having to eat too much and it worked out really well especially with the stops to come. To get to Artichoke Pizza, you'll want to take the 1 from South Ferry to the 18th St. stop. There are a bunch of Artichoke Pizza locations, but we are going to the one in Chelsea on 10th Avenue.
A short walk away from Artichoke Pizza, Chelsea Market is a dazzling bazaar with a multitude of restaurants and shops. If you skipped out on the Artichoke Pizza and you are a little hungry, you will be able to find something to suit your taste buds within the market. If you aren't hungry and want to wait for the Frying Pan, walk around and take it all in while escaping the outdoors for a little while. The Market is organized in a corridor fashion, with shops on both sides as you wind your way through. Between the constantly changing, delicious aroma of food and the enticing storefront windows, you could easily spend an hour or two walking around.
If it's after 4 PM, you'll want to check out the speakeasy called the Tippler located below Chelsea Market. You won't find any signs for it – if you found the shoe shine, you're close. If you need help, someone working there can direct you. However, when you finally find it, you will feel as if you are stepping back into the 1920's. The wooden interior, mostly built from reclaimed water tower wood, is a classy touch that makes the prohibition era come alive while you enjoy a well-deserved drink. It's a bit pricey, but worth the experience.
The High Line is a relatively new addition to New York City in the Meatpacking District. Although it's no secret, it's definitely one of our favorite spots in the city. If you're not familiar with it, the High Line is an old meatpacking rail line that is elevated above the streets on the West Side. It was revitalized into a public park, with the first section opening in 2009. Since then, it has become a summer hotspot for locals and tourists alike. Coming from Chelsea market, you can jump on the High Line on 16th St. if you walk up 10th Ave toward 16th St., you can't miss it. Take a slow walk up, enjoying the atmosphere and the unique perspective of the city. There are all kinds of activities going on during all seasons that can be really fun, so keep your eyes open!
The name sort of gives this one away; the Frying Pan is a great spot for food and drinks. However, there is nothing ordinary about this restaurant. When enter this restaurant, you will officially be on the Hudson River! You heard me right. You will be stepping aboard the United States Lightship, a 133 foot vessel that was converted into a docked restaurant offering delicious, American style food with a great bar selection. Stop by here for a bite to eat and on a warm day and sit back and enjoy the beautiful views. The Frying Pan is on 26th St., so aim to get off the High Line around there and walk toward the Hudson River. If it happens to be winter time, you'll want to skip this one!
Seeing Times Square at night is when it's at its peak due to the focus on the electric glow shooting out from every corner. That being said, I feel Erin's pain now after living in NYC for close to a year, because having to enter Times Square to "sightsee" is a locals nightmare. It's always packed with people, filled with chain restaurants and shops, and even more overpriced than everywhere else in the city, and that's saying something. However, it is a cultural center and a must-see when in New York City, so make your way there quickly before the crowds swallow you up. On that note, just like the hot tourists areas in any other major city, watch out for pickpockets and take proper precautions.
In Times Square , there are a couple diamonds in the rough. The two shops that we stopped by that day were the M&M store and the Hershey store, both of which are worth the visit. However, I would recommend going to the Hershey store first just to not spoil the experience. The M&M store is much bigger and could outshine the Hershey store if seen first. However, the best thing about Times Square is its close proximity to so many of the most popular Broadway shows. Before leaving the area, pop in to the theaters for shows you are interested in seeing and ask if they have any cheap tickets available for tonight (Spoiler alert – our last stop we go to see a Broadway show). Also, while you're at the candy stores, buy some snacks for the show if you plan on seeing one!
You've finished a long day gallivanting about Manhattan, knocking out a list of must-sees mixed in with some local flavor. However, if you're not too tired of cultural immersion, the perfect way to end your whirlwind of a day is seeing a show on Broadway. Many of the top name shows like Lion King and Hamilton are incredibly expensive, so unless your budget is unlimited, you'll want to look for a less popular show. If you go to some of the theaters (most are located in Midtown on or very near Broadway) ask them if they have any cheap tickets left. You'd be surprised; sometimes they have great deals for a couple of nosebleeds. The good thing about Broadway is that even if you're in the very last row, there is rarely a bad seat in the house. That's speaking from experience (our budget is pretty defined). If you want to reserve tickets ahead of time, Goldstar is a great resource for getting cheap Broadway tickets online.
We've seen copious amounts of shows, some being better than others. I remember going to my first Broadway show; it was unlike anything I had ever experienced, so I highly recommend if you haven't seen a show, find cheap tickets and see whatever is available! You won't be disappointed.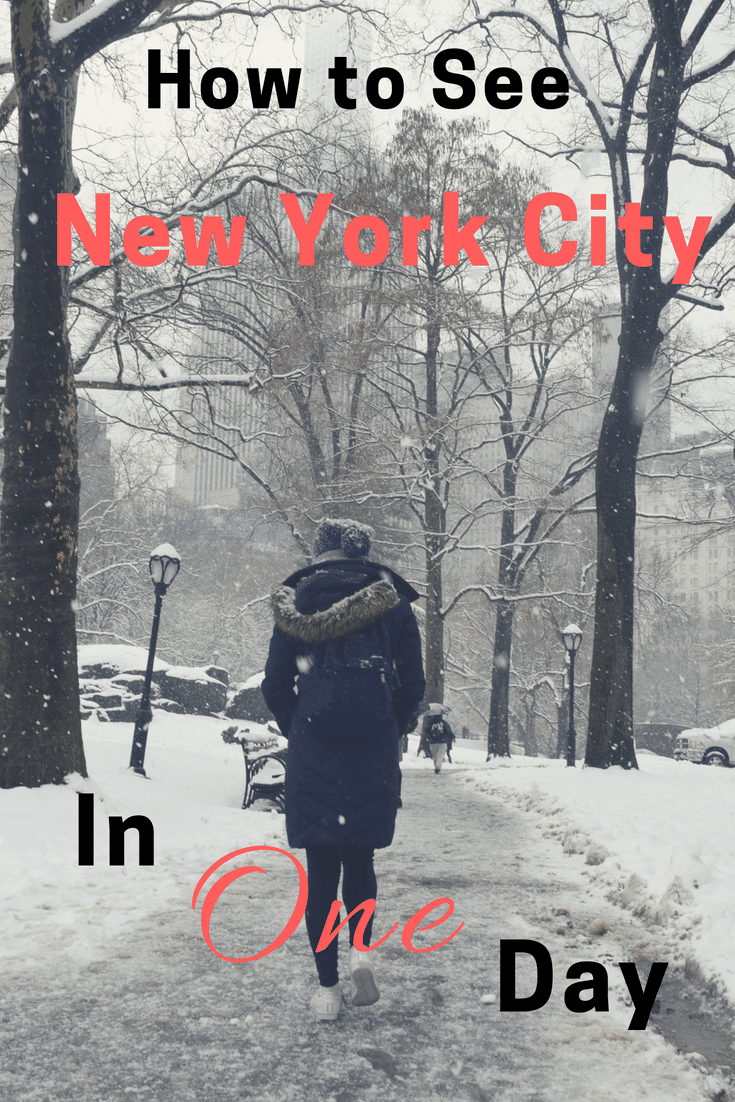 Check Out Our Most Recent Posts
Subscribe To Our Weekly Newsletter!
Once a week we will send out a newsletter and let you know what's going on at Traveling Atlas. Sign up so you don't miss any new content! Also, as a bonus enjoy a free packing guide straight to your inbox when you sign up.