Have you ever been scrolling on Instagram, and you see that one friend who is traveling AGAIN in the Bahamas and you're stuck sitting at work, saving up for your next vacation? We've all been there, and there are really three things that are going on here: either that friend is loaded with cash, in debt due to their lavish vacations, or they are using travel rewards credit cards to travel for free by earning free flights and accommodations all over the world.
It can be that simple – by signing up with the correct travel rewards credit cards, you can save yourself thousands of dollars and effectively travel for free with your miles/points.
Is Traveling for Free with Credit Cards a Scam?
When you hear about travel hacking and credit card miles, it sounds like a scam. After all, why would a bank offer you free money for using your credit card responsibly? The truth of the matter is credit card companies make money in two significant ways – fees per transaction paid by the merchant and from people who carry balances on their cards month to month, with interest rates upwards of 30%. None of the perks matter if you are paying 30% in interest per month on your balance.
Travel hacking with credit cards is a very legitimate way to travel for free, but none of it works if you don't use your credit cards responsibly. The #1 rule of credit cards is to pay your balance in FULL every single month. Treat it as cash; if you don't have the money in your bank account, don't spend it. The worst debt you can have is credit card debt because the interest rates are so high, and you can quickly dig a hole that you can't get out of.
Now that we have our credit card responsibility disclaimer out of the way, let's get on to the fun stuff – learning how to travel for free.
How Do I Begin to Travel for Free?
This depends on your credit history and the level of travel rewards credit cards that you could be approved for. There are different tiers of cards that require different credit limits to be able to be approved for the card. I will break them into categories of "Beginner", "Mid-Tier", and "Premium".
Beginner Level Credit Card
If you have limited to no credit history, then you will have to start with a beginner level credit card to begin building your credit score. Once you have a credit card, you start by making small payments every month on the card, maybe just gas for your car or some repetitive expense and paying the card off in full every month. Doing this consistently will raise your score considerably in a short amount of time.
Travel rewards cards generally all start at the "Mid-Tier" level, meaning you will have to start with a beginner level card first to build your credit before getting a travel rewards card. A card I recommend (and the card I started with when I was 18) is the Discover It Card. This card is great for those starting out because it has no yearly fee and a rotating calendar of 5% rewards throughout the year to get good cashback.
If you have been building your credit for a while and are ready to take on your first travel rewards credit card, a card I would recommend is the Capital One VentureOne Card. This card is still beginner level because it doesn't have a yearly fee but has a very generous sign-up bonus of 20,000 points if you spend $500 in the first 3 months on the card (at time of writing) and also 1.25 points per dollar you spend (100 points = $1). If you want to dip your toes into the world of free travel, this is a great place to start.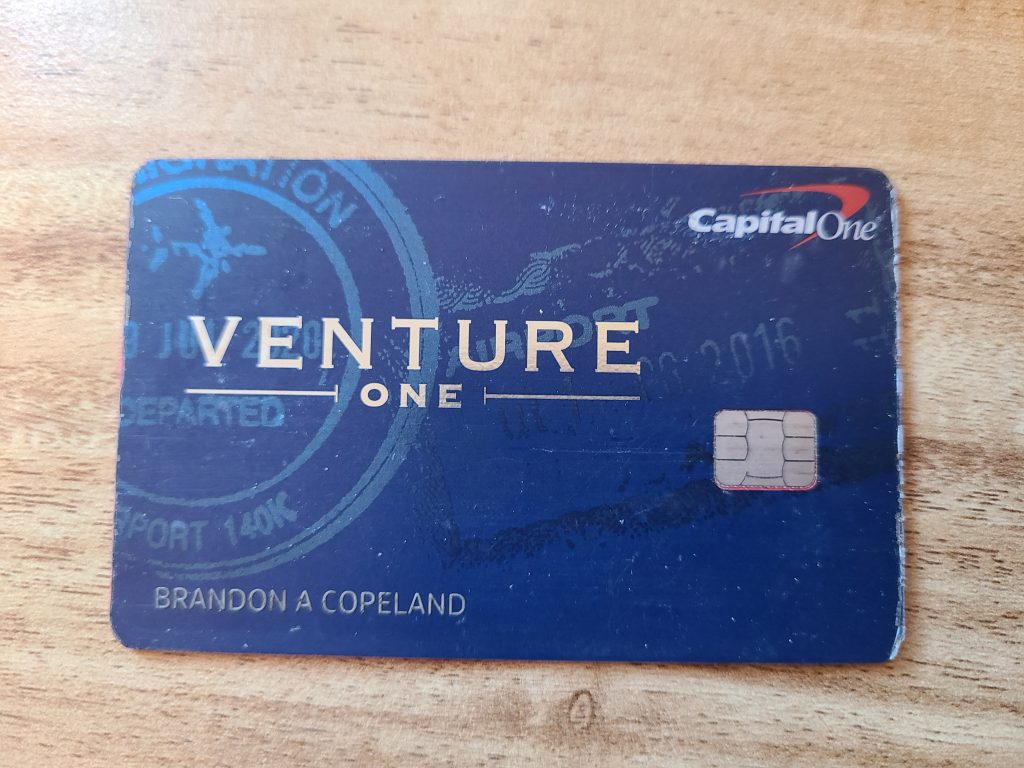 Mid-Tier Level Credit Card
Once you have gotten the hang of things with a travel rewards credit card with no annual fee, it's time to start moving toward the bigger rewards. The bigger rewards come with annual fees, but on the mid-tier cards, these are usually around $95 which isn't bad considering the benefit that the card is giving you.
One of the best credit cards out there is the Chase Sapphire Preferred, which carries a $95 annual fee but is packed with perks right from the sign-up bonus. At time of writing, the sign-up bonus is 60,000 points after spending $4,000 in 3 months, which alone is worth up to $750 in free travel when booked through the Chase Ultimate Rewards travel booking platform. On top of that, you get a $50 statement credit for hotel stays booked through the Chase Ultimate Rewards travel booking platform as well as many other great perks. You can also transfer the points to other rewards programs, including United.
When Erin and I left to travel around South America for 5 months, we each got two credit cards that would work well together – the Chase Sapphire Preferred and the United Explorer MileagePlus Card. These worked great together because we could transfer all of our points from Chase to United, and we essentially traveled for free for those 5 months. When booking award travel through United, you have to pay minimal taxes and fees, but the major cost of the flight is taken out.
As mentioned above, the United Explorer MileagePlus Card is another example of a solid mid-tier card that is tied directly to an airline. If you know you're going to be flying United almost exclusively, it makes sense to get the United card because you will have perks such as priority boarding, United Club lounge access, and free checked bags. This card carries a $95 annual fee that isn't charged until the second year and has a 40,000 point sign-up bonus if you spend $2,000 in the first 3 months. If you choose a different airline, just make sure you can transfer points from Chase to the airline.
Premium Level Credit Card
If you are SERIOUS about traveling for free, the premium credit card section is where you should be paying attention. These cards carry high annual fees, and require excellent credit, so make sure you have had success with the mid-tier cards before upgrading to the big leagues.
There are 2 premium cards I personally have and therefore can recommend wholeheartedly, because they have saved me an immense amount of money on travel. The first of which is brand new, hot off the press, the Capital One VentureX Card. This card is jam packed with value, and for only an annual fee of $395, it's an absolute steal.
The sign-up bonus is 100,000 points if you spend $10,000 on the card in 6 months, worth a face value $1,000. On top of that, you get $300 statement credit on travel booked through the Capital One Travel platform, $200 statement credit for Airbnb/VRBO, and 10,000 point anniversary bonus worth $100. On top of that, you get Capital One lounge access as well as Priority Pass lounge access which has over 1300 lounges all over the world, and statement credit for Global Entry or TSA Precheck. This card pays for itself and then some – if you want to travel for free, start here.
Another premium credit card I would recommend is the Chase Sapphire Reserve. After 13 months of having the Chase Sapphire Preferred, you have the option to upgrade to the Reserve which is the real heavy hitter card. The Reserve has a sticker shock of $550 on annual fee, but there are plenty of perks that make this card worth it. First of all, it has a 50,000 point signup bonus if you spend $4,000 in the first 3 months which is worth up to $750. It also has $300 statement credit for any travel related purchase put on the card. There is Priority Pass membership, DashPass membership with $60 DoorDash credit per year, Lyft Pink membership for a year, $120 statement credit on Peloton, plus many more perks. If you use all these things, you will benefit greatly from the Reserve.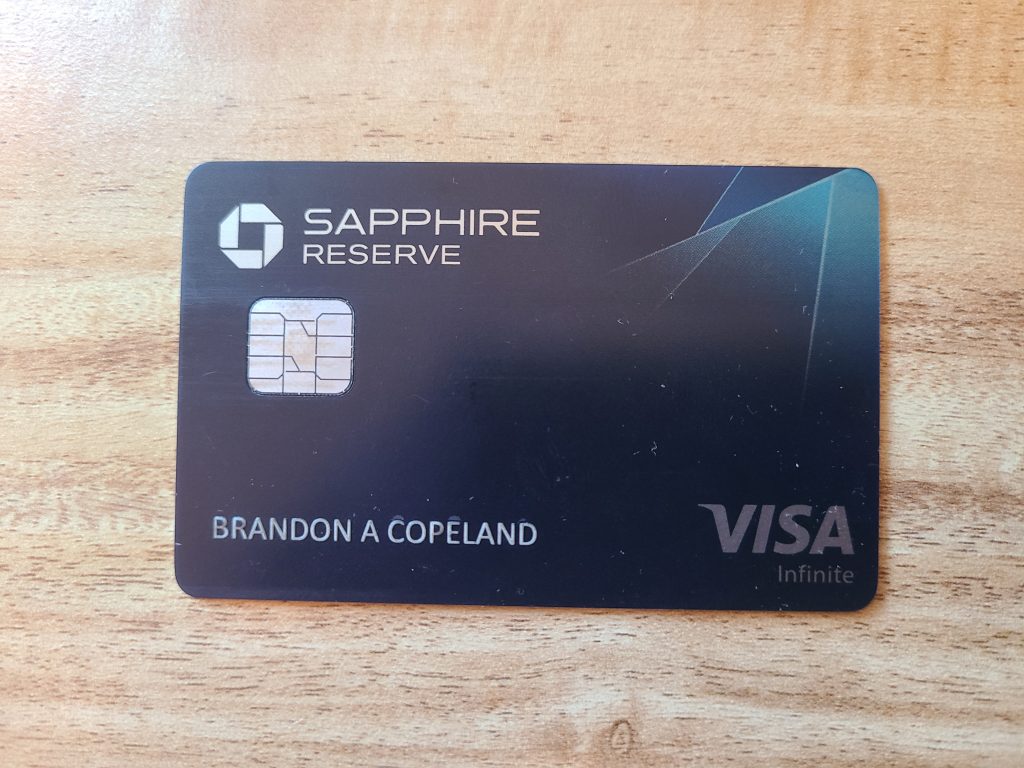 Is There a Way to Travel for Free Without Credit Cards?
The answer is yes, but it's just a much slower journey. You can sign-up for airline rewards programs for free, and then when you fly with the airlines you get miles that you can use for free flights. Whenever you do take a flight, make sure to link your rewards account, and if you forget to, make sure to request flight credit for your trip. However, you don't amass nearly as many points as you used to, and you must spend a lot of money on flights before you start earning free travel.
If credit cards make you nervous, especially cards with annual fees, then just start slow. Get the Capital One VentureOne Card or another entry travel card with no annual fee, and just pay it off in full every single month. That way you are still able to travel for free, but you don't feel like you're taking a lot of risk.
If you're finding this all overwhelming, just picture yourself on the beach in the Caribbean sipping on a Mai Thai getting ready to take a picture for the 'gram to make all YOUR friends jealous… trust me, it's worth the effort! Whether it's your first time traveling internationally or you're a seasoned travel pro, travel hacking is the way to go. Happy free travels!