Earn Flight Credit for Flights That You Have Taken in the Last 12 Months
Have you taken any flights in the last year where you didn't earn miles? If you have, you are able to earn flight credit in the form of miles for any of those flights on most airline rewards programs. Participating programs include United, American, and Southwest.
Other programs have different time periods such as 9 months for Delta, 11 months for Alaska, and 6 months for many other airlines. In this article, we will be focusing on how to request credit for trips taken in the last year through MileagePlus, the United rewards program.
If you are trying to request flight credit on a different airline, scroll to the bottom for links to other programs credit request pages. Most airlines follow a similar procedure as United for requesting flight credit from past flights so this guide will still be helpful if you are not using United.
If you are new to travel hacking and want to learn more about how to start earning miles in order to get free flights (only paying taxes and fees), click here.
Have You Opened a MileagePlus Rewards account?
If you had opened a MileagePlus Rewards account before the trips you are requesting flight credit for, you are in good shape. You will be able to request flight credit for any flights before account creation up to 12 months previous. Go ahead and skip to the next section.
If you haven't opened a MileagePlus Rewards account but want to cash in on prior flights, you are more limited in your options. You have 30 days to register for a MileagePlus account after a flight to gain credit for the trip.
If you have taken many flights over the past 6 months, you can pay a $50 fee to gain these miles as a new member for any trips 31 days from account creation. If you have only taken a flight or two, this may not be worth it. For the most recent point valuations, see this post by the Points Guy.
Using the current point valuation, calculate how much money the miles you would be earning are worth. If they are worth more than $50, then it may be worth paying the fee to earn credit for the miles.
Request Flight Credit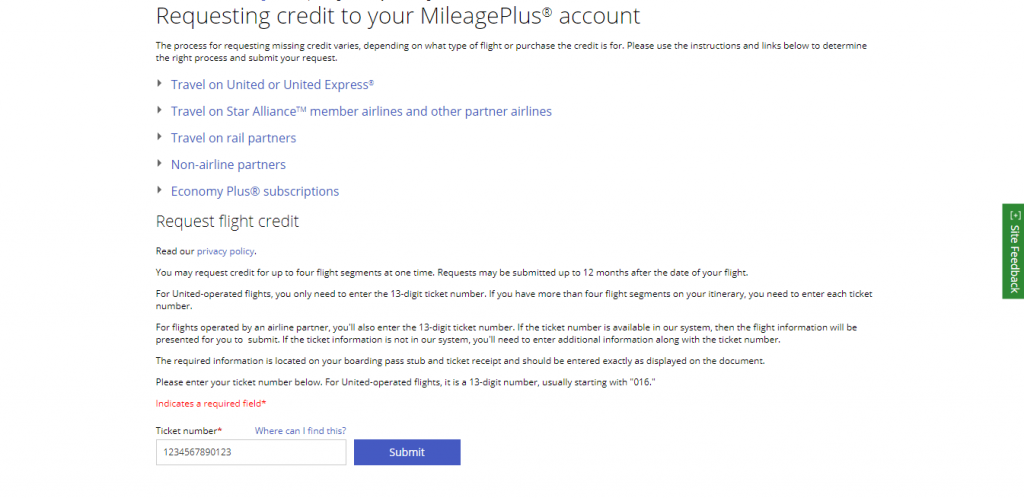 If your trip was on a United-operated flight, all you need to request credit for the flight is the 13-digit ticket number that can be found on your boarding pass or emailed receipt from United. To submit a request for flight credit, click here.
If your trip was on an airline partner of United (any airline in the Star Alliance, to check if your airline is in the Star Alliance click here), it may still work by just entering the 13-digit ticket number. If it doesn't, you may need to submit a contact form request with all of the information you can provide them such as airline, ticket number, flight dates, and flight number.
Time Expectations for Credit Request
United claims that the credit will be posted to your account within 48 hours of the request, but in my own experience it usually takes up to a week. If the credit doesn't post after a week, contact United using this form here.
Flights Taken Over a Year Ago
Unfortunately, there is no way to request credit for flights taken over a year ago on any major airline. This is why it's a good idea to sign-up for mileage programs because they are free and you won't miss out on points from flying with the airline.
For more information on earning miles and travel hacking, check out this post.
Links to Other Airlines Credit Request Portals
Listed below are links to different airline credit request portals where you can try to recoup miles from previous flights. Each airline mileage program has their own rules, but generally they will have a similar procedure to what we highlighted here for United.
United: Request United Credit
JetBlue: Request JetBlue Credit
Delta: Request Delta Credit
American: Request American Credit
Southwest: Request Southwest Credit 
Alaska: Request Alaska Credit
Conclusion
If you have taken flights in the last year, make sure that you are receiving the credit you are due. Every mile is important and brings you closer to free flights. Every time you fly on a new airline, make sure that you are signing up for the mileage rewards program so that you receive points for your flight.
Pin it to Pinterest!