How to Decide Which Lisbon Neighborhoods to Explore
Lisbon is an eclectic city with an incredibly rich culture and a very dynamic history. It is comprised on a series of neighborhoods, all of which are unique in their own ways and together tell the story of Lisbon. With so many neighborhoods to choose from, it's difficult to prioritize which Lisbon neighborhoods are worth checking out, especially if you have limited time.
The good news is that much of Lisbon is very walk-able, with the exception of two locations on our list. As long as you are prepared to explore on foot, you will inevitably witness amazing nooks and crannies of the city no guide book will tell you about. As long as you stay in a central neighborhood, like Baixa (sneak preview to the section below!) you will be able to cover plenty of ground without the help of public transportation.
1. Baixa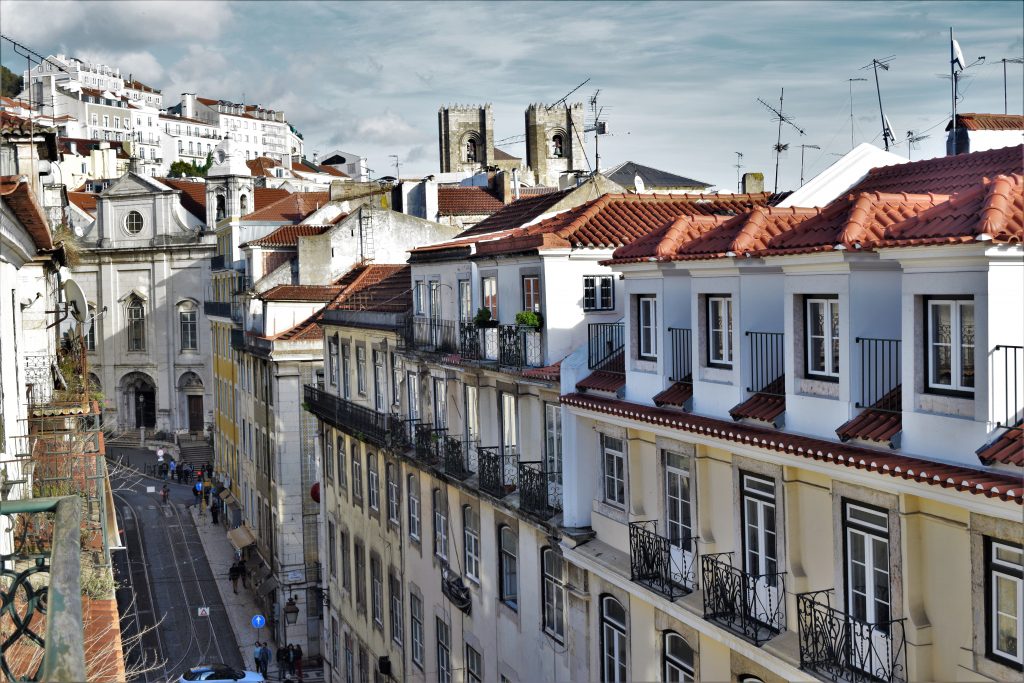 Baixa is the most central of the Lisbon neighborhoods, positioned between Alfama, Barrio Alto and Chiado, and it borders the Tagus River. The majority of Baixa is organized in an orderly grid, as most modern cities are in the world. The reason for this is due to the earthquake of 1755 that decimated Lisbon, and therefore the entire neighborhood ended up being rebuilt.
It's a charming neighborhood, with a multitude of restaurants. It is also home to many "touristy" restaurants, which are generally overpriced with waiters armed with menus trying to wave down potential guests in the street. One thing we discovered very quickly was the best, most authentic restaurants are the ones that refrain from heckling you on the street.
We stayed at an Airbnb in Baixa and I would highly suggest it as a home base. Staying in Baixa makes the majority of Lisbon walk-able and the best way to see any city, Lisbon included, is to wander the streets on foot. Prices may be higher than in other areas, but it is definitely worth the splurge. The Airbnb we found was perfect for two people and was decently affordable. Here is a link to the Airbnb.
First time using Airbnb? Click here to save $55 dollars on your first trip with Airbnb! You will receive $40 off your first home rental and $15 off your first Airbnb experience. To make things even better, we earn money toward our next Airbnb trip as well! That's a win-win.
2. Alfama
Alfama was by far our favorite of the Lisbon neighborhoods. One of the oldest neighborhoods in Lisbon, Alfama survived the 1755 earthquake that caused large portions of Lisbon to be rebuilt. Because of this, Alfama is a labyrinth of winding, narrow streets with quaint shops and tall staircases seemingly to nowhere.
A magical place, Alfama is the perfect neighborhood to get lost in. Take an afternoon, put away the maps and just wander around the old cobblestone streets. We found so many amazing places while we were walking around that we wanted to come back to, either for drinks or for dinner, that we never passed again. If you are going exploring in Alfama, go on an empty stomach because you will find plenty of enticing restaurants!
However, this confusing, beautiful maze of a neighborhood maybe wouldn't be the best home base for your entire trip to Lisbon. Spending a night or two would be incredible, but it's not nearly as central as Baixa and also it could be difficult to find your accommodation especially at night.
Alfama, while very different, reminded us of Havana, Cuba. We traveled there last July and had the best time. If you are American, check out this guide for how to travel to Cuba, and also check out our article on Airbnb Experiences you have to try in Havana!
3. Bairro-Alto
Bairro-Alto quite literally means "high neighborhood" and its title is no coincidence. Located at the top of a hill, Bairro-Alto is the best neighborhood to find nightlife in Lisbon. There are plenty of bars (including a Delirium Cafe, our favorite bar in Brussels!) and restaurants, with places that stay open much later than the rest of the city.
On this trip, we were more focused on the food, sites, and wine than the nightlife, but we still managed to meander Bairro-Alto at night. We spent some time reminiscing about our recent trip to Cuba at Bar Ache Cohiba, a Cuban bar that greets you with a shot on the house when you come in.
We ate at an Italian restaurant called Restaurante Esperança one night and it was perfect for us. Decently affordable for a nice restaurant with amazing food and wine. We were aiming to eat at Casanostra, another Italian restaurant, but there was a private event going on so we ended up stumbling into Restaurante Esperança and we were very happy for it. (They don't seem to have a website but if you Google Maps it you will find it).
4. Chiado
Chiado is shopaholics dream; known for the plethora of high-end shops and luxury labels, that are by no means cheap, Chiado is a very rich area. Walking the streets was fun, but we weren't going to find anything in our price range there.
The most interesting shop in Chiado is definitely Luvaria Ulisses, a glove shop founded in 1925 that has the original decoration intact. The shop has the smallest storefront in all of Lisbon and it is the only remaining shop in Lisbon that exclusively sells gloves. If you are planning to see Chiado, you have to stop by this miniscule, historic glove shop!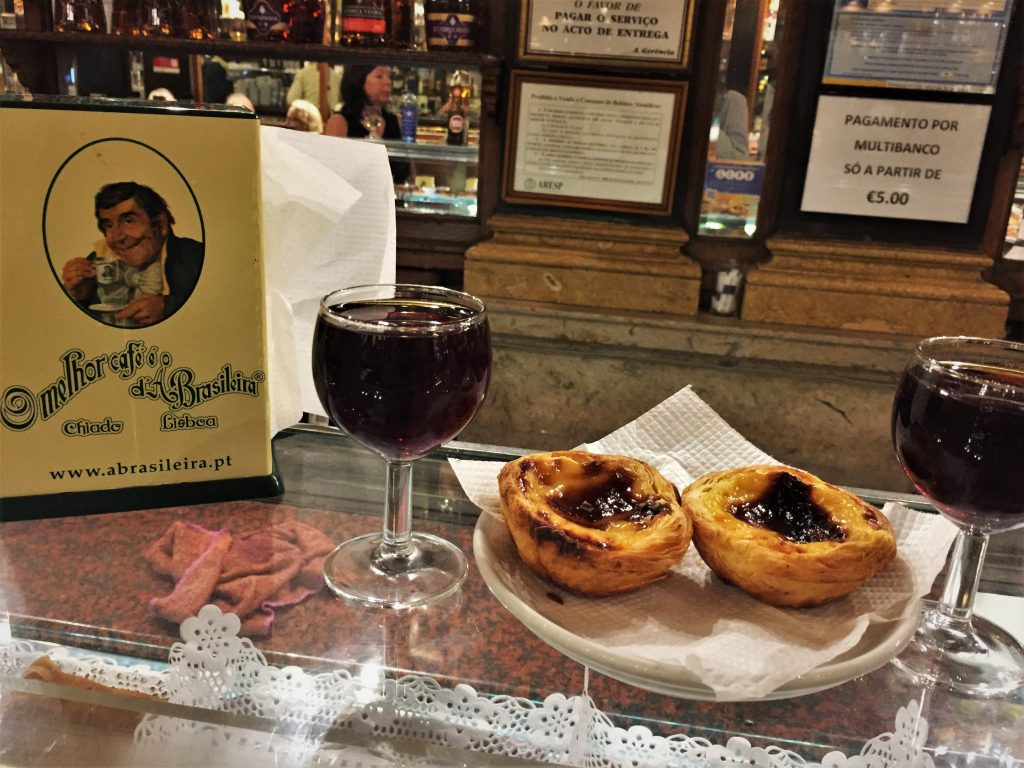 A walk in Chiado would be incomplete without stopping by Café A Brasileira (The Brazilian Lady Café). It is one of the oldest and most famous cafés in Lisbon, founded in 1905. The shop aimed to sell Brazilian coffee, which was not popular at that time. However, they were the first shop in Lisbon to offer a cup of bica, a drink similar to espresso, for free with every kilogram of coffee bought. It became famous due to the famous intellectuals and artists that would frequent the establishment. While it's a cool spot to see, the prices are very high. It's actually cheaper to stand at the bar than taking a table, if you are just dropping by.
5. Belém
Belém, the most southwestern of the Lisbon neighborhoods, is located at the mouth of the Tagus River. Just a 20-minute Uber, tram ride, or bus ride away, Belém is a must visit on any length trip to Lisbon.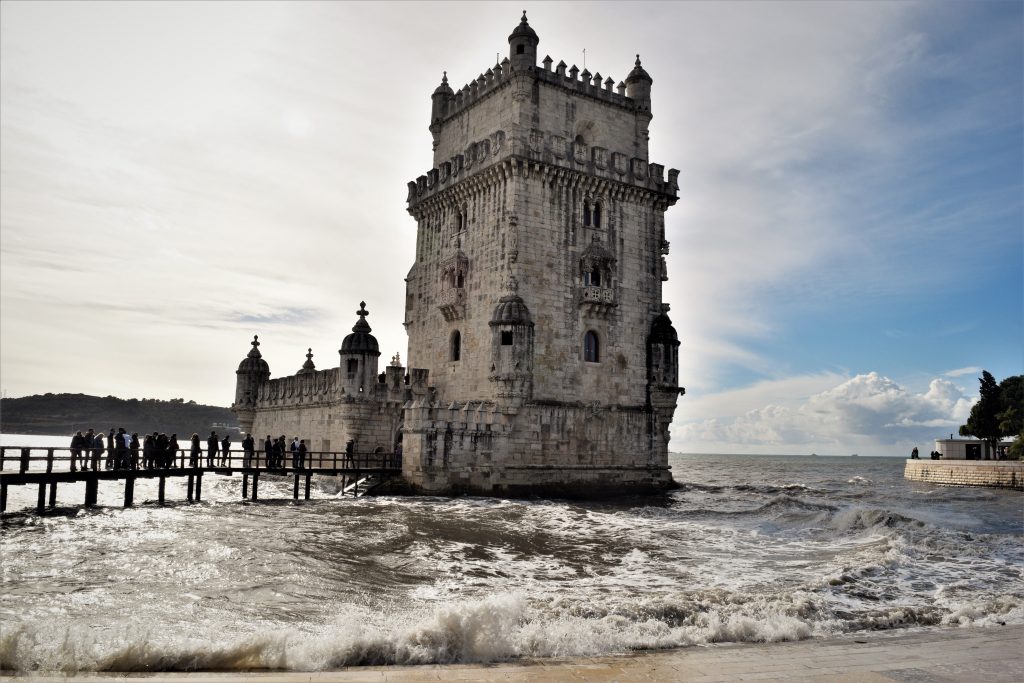 Your first stop has to be the Tower of Belém, a 16th century stronghold that was constructed to protect Lisbon from invaders on the Tagus River. The outpost, originally built on a small island in the Tagus River, is now surrounded by water, giving it a unique look it's famous for. The Tagus was redirected after the earthquake of 1755 which overtook the small island the tower was built on.
After visiting the tower, you have to see the Jerónimos Monastery. However, on the walk from the tower you can see the Monument to the Discoveries, an interesting statue right off the water. We decided it wasn't necessary to see up close, but we were able to view it once crossing the highway. It was built in 1958 in celebration of the Portuguese "Age of Discovery" during the 15th and 16th centuries, most recognizably to India. If you feel so inclined, you can also attempt to hold up the perfectly vertical monument Leaning Tower of Pisa style like Erin below.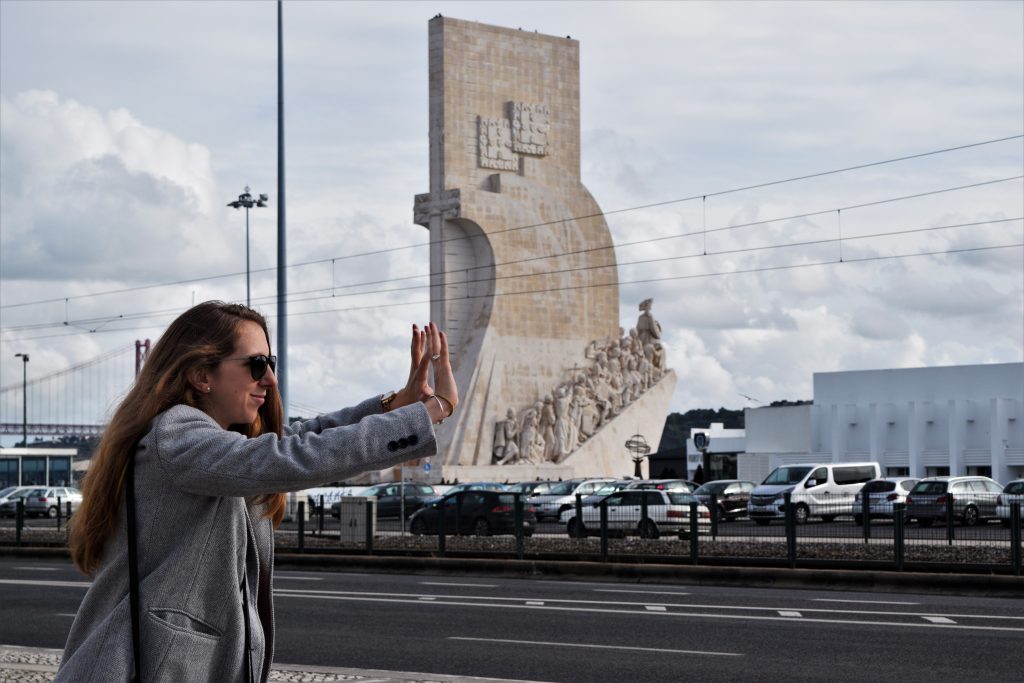 The Jerónimos Monastery was opened in 1495 and is a massive structure, including a sizable cloister beside the church. You can enter the church for free which I highly suggest doing. We passed on the cloister because there was a fee; we didn't feel like we were missing too terribly much.
To finish off the visit in the Belém neighborhood, stop by Pasteis de Belém, the birthplace of nata (a delicious Portuguese egg tart pastry). The place is absolutely massive and we still had to wait in a line. However, it was well worth the wait. Definitely order the nata (pastel de Belém) and if you're in the mood, they go surprisingly well with a beer.
Honorable Mention: Xabregas (Tile Museum)
Xabregas isn't usually on the mind when considering the best Lisbon neighborhoods, however we have placed it on our list as an honorable mention for one specific reason: Museu Nacional do Azulejo (National Tile Museum).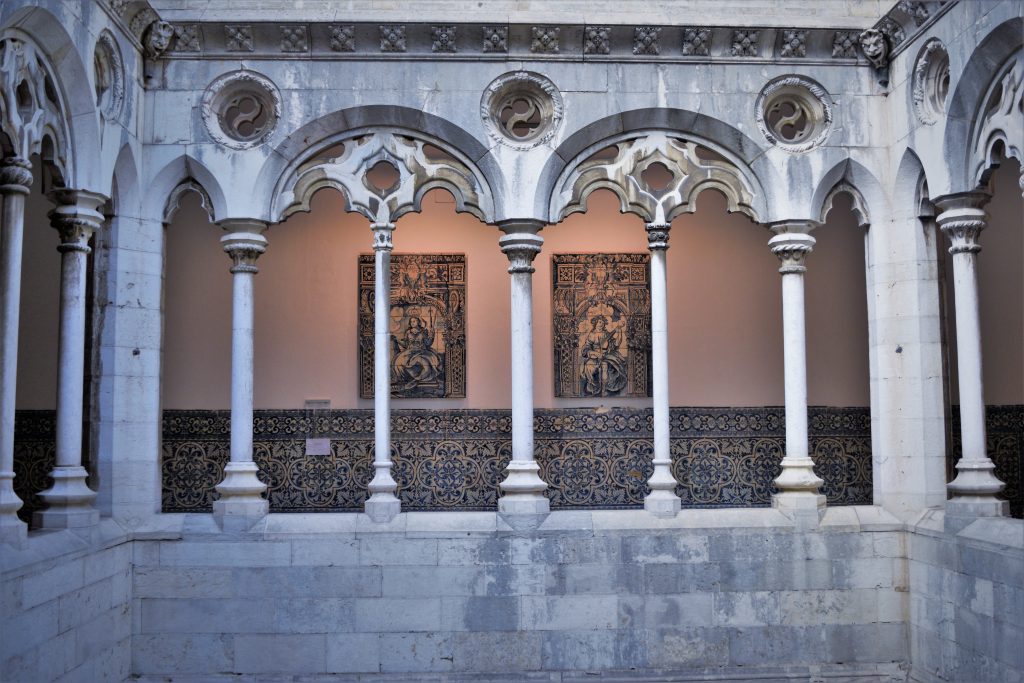 If you have spent even 30 minutes in Lisbon, you have realized that there are tiles everywhere; on buildings, on trams, in restaurants, in churches, just everywhere. These tiles, azulejos, have a rich history originating in Seville in the 13th century. Starting in the 16th century, Portugal began importing tiles from Seville and eventually began producing azulejos themselves as they became increasingly popular.
While Xabregas is slightly outside of the central area, it's not impossible to walk to (we did!). However, I would advise you to take the bus or an Uber to save yourself some time. Once you leave Alfama, it's not the nicest walk.
Whatever you do, don't miss the National Tile Museum. To understand the culture on a deeper level, visit the museum and you will have a completely new appreciation for the tiles you see all over Lisbon.
Conclusion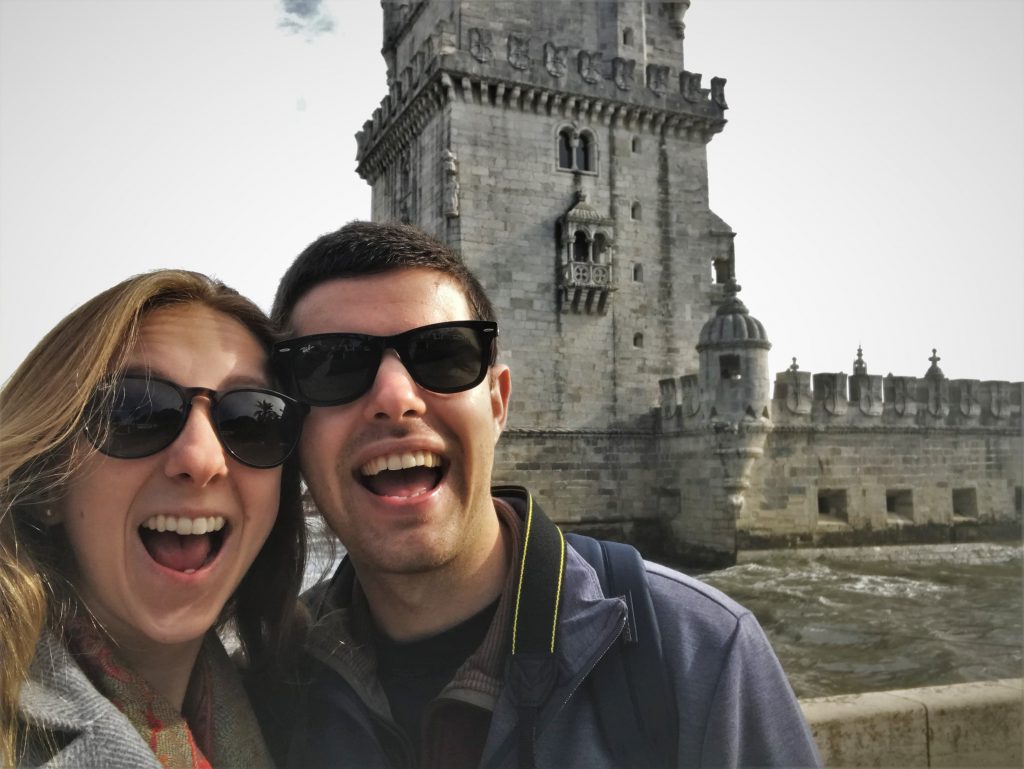 Lisbon is home to a variety of unique neighborhoods, each with their own history and qualities which is why it is important to explore all over Lisbon to get an idea of the culture. Even just the stark difference between Alfama and Baixa is startling but their differences are routed in the history of the city.
If you are planning a trip to Portugal and this is your first trip abroad, check out our post for more information on traveling internationally for the first time. It is very exciting but we know it can be overwhelming, which is why we put together an easy-to-follow guide for you.
We absolutely loved exploring the Lisbon neighborhoods by foot, and we suggest everyone who is able to do the same. There are some things you just can't plan for, like walking down a random street to find musicians playing from a second story balcony. Enjoy the adventure!
Pin it to Pinterest!