This post contains affiliate links for products that I personally use and recommend. If you happen to purchase them, I will earn a small commission at no extra cost to you.
Why Visit Agios Gordios Corfu Greece?
When you hear about Greek islands, people are usually talking about Santorini or Mykonos, so you might be asking yourself – why wouldn't I travel to one of those dreamy islands? Well, I'm not here to say that you shouldn't because each is incredibly beautiful. However, Corfu takes you away from the conventional tourist route and offers beauty that rivals anywhere in the world.
Corfu is home to mountainous terrain, gorgeous beaches, stunning cliff faces and ancient historical sites. There is plenty to do for all different types of people, from adventure water sports to incredible restaurants. Follow along with our journey to a small village and see why you should visit Agios Gordios Corfu Greece.
Agios Gordios: A Stunning Village
Agios Gordios is an enchanting village on the west coast of the Greek island of Corfu. It is home to some of the most amazing scenery you could ever imagine; from the bright blue water to the staggering cliffs, the natural beauty captivated us from the moment we arrived until the day we departed.
Aside from the natural scenery, Agios Gordios is home to a vibrant community with incredible restaurants, shops, and bars. While there are many other incredible places to visit in Corfu, we couldn't bring ourselves to leave Agios Gordios!
Accommodation in Agios Gordios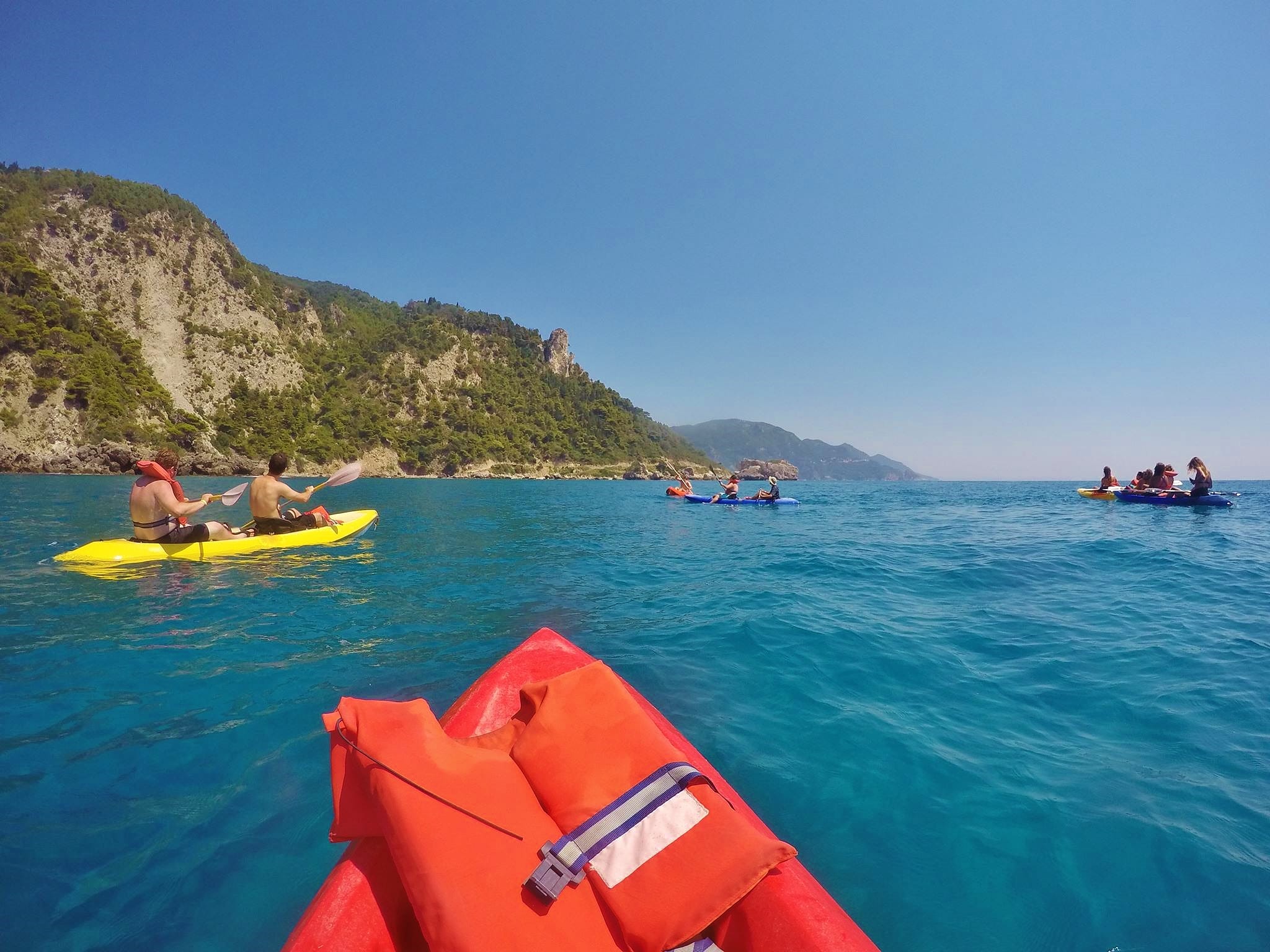 The Pink Palace is the best hostel that I have ever stayed at in the world, hands down. It's a huge claim, I realize; there are plenty of amazing hostels out there. However, the Pink Palace is like the 5-star resort of hostels while maintaining the low, reasonable prices that are conventional. The hostel is huge and features many separate buildings with terraces that are scattered down the hillside, leading all the way to the beach. Every morning we woke up and walked out onto our luxurious balcony to take in the unprecedented view from right outside of our room.
The location aside, the amenities are incredible. There is a restaurant, a 24-hour bar, a nightclub, activities such as a kayaking safari (more on this later), a booze cruise, and a quad safari. Every morning they have a free, incredibly delicious breakfast on their restaurant right off the beach. The staff was friendly and helpful, and they even offer free transfers to and from the airport if you book 2 nights or more. You just can't beat it!
Kayaking Safari Excursion at the Pink Palace
The kayaking safari, offered at 25 euros (price may fluctuate) through the Pink Palace, is one of the best group activities you can find in that price range. The experience starts off with about a 30 minute kayak trip that takes you around the bend away from Agios Gordios beach. Once you get far enough out into the water, the view of the coastline is just stunning; you really feel the magnitude of the cliffside.
The first stop of the journey is a secluded island with an old monastery at its plateau. You hike up the side of the mountain and eat lunch (complimentary sandwiches!) all the while exploring the island and enjoying the views of Corfu from 100 feet up on an island off the coast. Once you finish lunch, you head to a deserted beach to take a swim in the calm, clear water. Last but not least, you head to a jumping rock that is about 30 feet high and everyone takes turns jumping off the rock and into the water below. I highly suggest the experience to anyone staying at the Pink Palace!
Note of Caution: Do not bring your phone on this excursion! With all of the activity going on and the jumping in and out of kayaks, do not bring your phone unless you have a waterproof bag that is easy to tie around your wrist. This is why we don't have any pictures of the experience – we left our phones safely back at the Pink Palace.
Booze Cruise and Quad Safari at the Pink Palace
The experiences are offered on a staggered calendar and unfortunately there wasn't a booze cruise or quad safari scheduled while we were visiting. However, from what I heard from other people who were able to go on them, both experiences are incredible and well worth the money.
Restaurants in Agios Gordios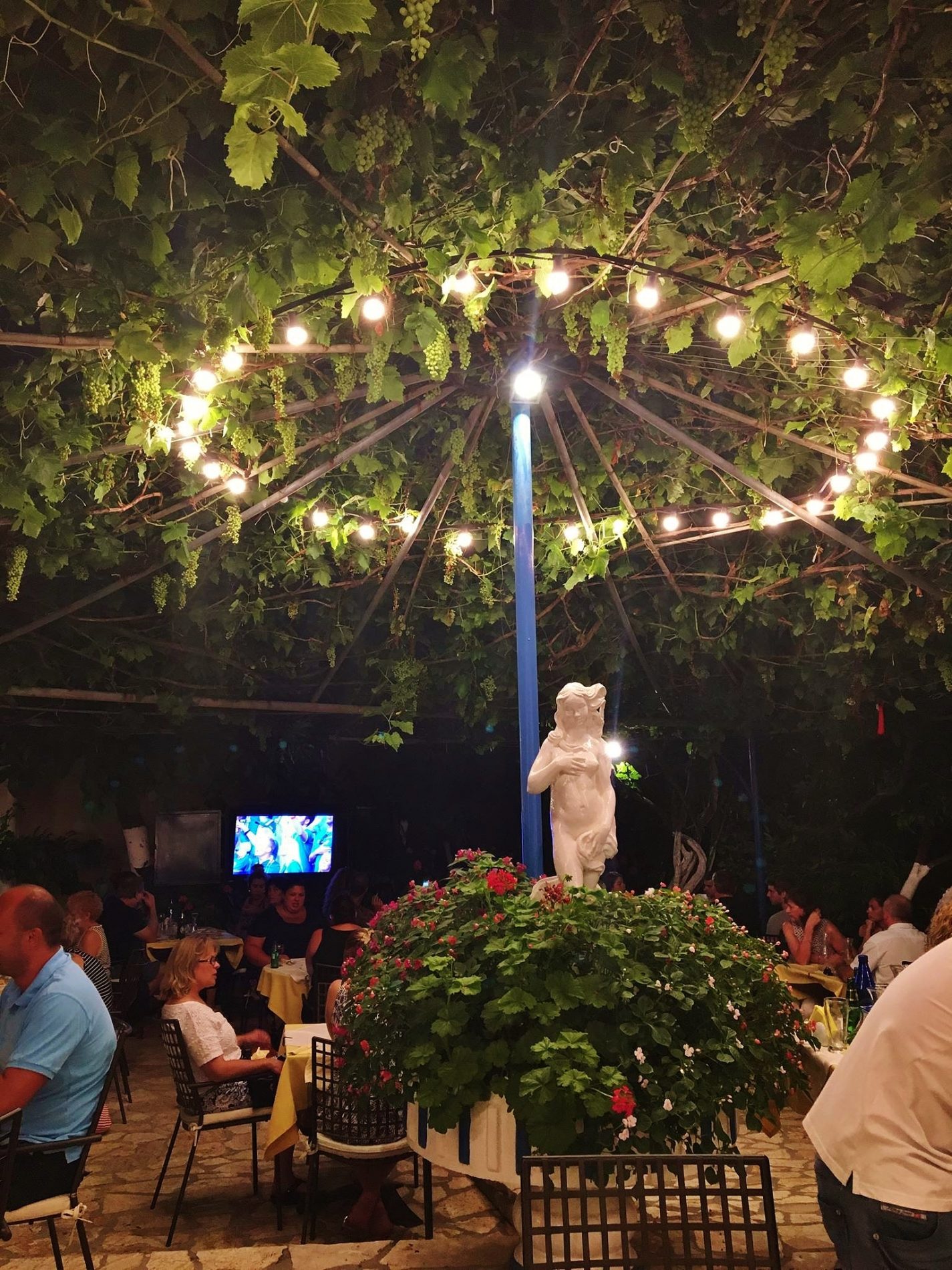 Sebastian's Taverna is a must do if you are looking for a nice dinner spot to have authentic Greek cuisine. The patio is just absolutely beautiful, with greenery enclosing the space and strings of lights hanging overhead (pictured above).
Sit outside, grab a glass of wine (or a few) and order something you've never had before. Everything we had was delicious and our server even taught us some Greek in the meantime. ευχαριστώ!
Thalassa Restaurant is an authentic Greek restaurant right off the beach, offering incredible seaside views while you sit back and enjoy first class food for a reasonable price.
If you stop in for lunch, they have great deals on food. Try to get a table closest to the water and stay for sunset; the views over the water are unparalleled and incredibly romantic. Also, the restaurant is home to a few cats that like to come around and beg for food – just leave them alone and you'll be fine.
If you have explored the authentic Greek restaurants and you're looking for something different, try La Tabernita Mexicana. If you're like us, we crave Mexican food often, especially just the very simple comfort of homemade guacamole in a traditional molcajete with homemade tortilla chips.
Thankfully, even when you're in Corfu Greece you can have pretty decent Mexican cuisine. Order margaritas and guacamole, and enjoy the merging of two unique cultures.
Best Bars in Agios Gordios
The Beach Bar at the Pink Palace
Even if you are not staying at the Pink Palace, it is worth checking out the beach bar if you're looking for a fun, young atmosphere. The bar is open 24 hours a day, and the party continues very late into the night (basically until the sun comes up).
Meet people traveling from all around the world and enjoy the sound of the waves crashing in the background while you sip on some ouzo, the famous Greek liquor.
While this is a restaurant, they have a small bar with bartenders who know how to entertain. We went to this bar on two separate occasions because the bartender made us all several of his own concoctions while creating a spectacle. He lit drinks on fire, with masterful showmanship and made us Greek cocktails we had never heard of before.
If you're looking for a local touch in a small, restaurant atmosphere, this is the place to go.
The Lemon Tree is a vibrant, open air bar that is lit up with neon light. This is a local hangout but during the summer becomes very crowded with tourists. We had a couple drinks here and then moved on to other locations to get a more local feel of the neighborhood. However, still a great place to grab a drink and meet new people.
Shopping Available in Town
There are many shops scattered throughout Agios Gordios offering local clothes and other Greek items. There are also a lot of stores offering tourist friendly items such as postcards and souvenirs to remember your trip by.
Just about anything you forget at home you can buy in Agios Gordios, just walk around and ask people where to find items. The only thing I couldn't find was a version of Harry Potter in Greek – Erin's sister is a collector of the books in different languages. However, they had plenty of copies in English!
Enjoy Your Trip in Agios Gordios Corfu Greece
Agios Gordios is a beautiful village in Corfu Greece with plenty to offer. When you travel there, make sure to get out on the water, whether you are in a kayak or a boat, and enjoy the warm weather. Check out local restaurants and bars and make an effort to interact with the locals. Slow down your pace of life and just enjoy the culture. We can't wait to go back!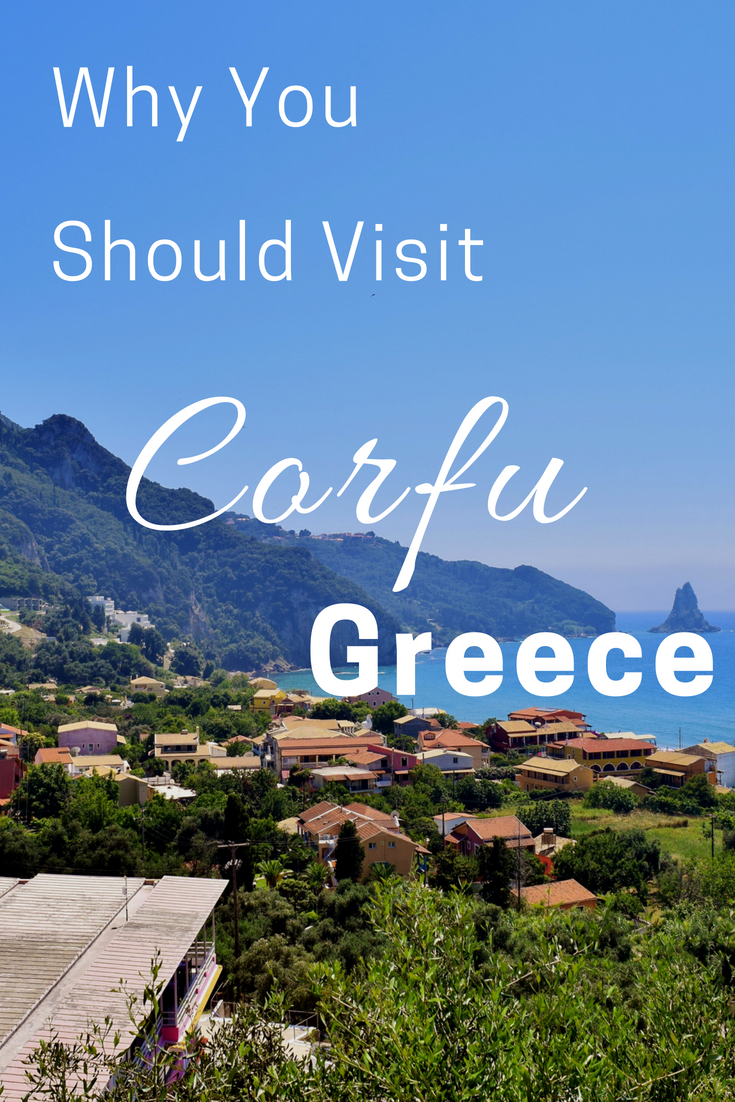 Check Out Our Most Recent Posts!
Subscribe to Our Weekly Newsletter!